Quanum Cyclops Diversity DVR FPV Goggle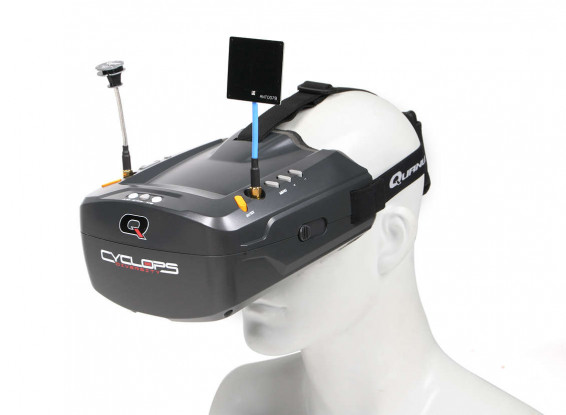 Quanum Cyclops Diversity DVR FPV Goggle
Kostenloser Versand?
Klicke
hier
um mehr zu lernen!
Melde Probleme
Nicht billig?
Quanum has been renowned for its revolutionary goggles and the Cyclops Diversity DVR Goggles continues this revolution with Pure Diversity. This means that it has not one but two receivers to get the best video signal for the clearest vision. To complete the package there is an inbuilt DVR to record all your FPV video. The DVR records to a micro SD card reader.
To maximize the channels you can use there are two integrated 40 channel receivers covering A, B, E, F, and Race bands. You can manually select your desired frequency or use the auto scan to find the signal you want. Use your DVR for instant playback of your flight or see the highlights of your last race. All this is viewed on the 5", 800 x 480 non-blue monitor screen for the clearest viewing. An easily adjustable lens allows for all eyes to use these goggles even whilst wearing glasses.
Wearing the Quanum Cyclops goggles is extremely comfortable thanks to the lightweight, one-piece plastic shell and a three-point adjustable strap with a rear battery pouch for optimum weight distribution. It comes with soft sponge rubber facial foam lining with smooth sweatband material for maximum comfort. All buttons are positioned for easy use.
External AV can be sent directly to your screen or audio and video can be output to a base station so others can watch what you're viewing in real-time. A mount is provided for the Quanum Head Tracker (not included) giving you everything needed for FPV flying.
Get the best out of the world of FPV viewing with Quanum's Diversity DVR Goggles.
Features:
• Plug and Play
• Pure Diversity Receiver (two receivers)
• Digital Video Recorder (DVR) (micro SD) Please note: Micro SD card is not included, see related products below
• 5" TFT Monitor with 3X magnification acrylic lens
• 800 X 480 non-blue screen monitor
• Focal length adjustment
• Design allows use with glasses
• Durable lightweight plastic molded shell
• Extra comfortable sponge rubber cushioning strips for facial comfort
• Adjustable elastic head strap with battery pouch
• On-Screen Menu with adjustable contrast and brightness controls
• One-touch automatic channel scanning or manual selection
• 40 channels covering A, B, E, F, and Race band
• AV in & RX Out
• Audio Out
• Mount for Quanum Head Tracker (Head Tracker sold separately)
• 7.4 to 12.6V input range
• 3 Types of battery connections
Specs:
Operating Voltage: 7.4 -12.6V
Receiver: -90 dBm ISM 5.8GHz 40ch
Antenna connections: SMA
Operating Current: 1000mA
Dimensions: 187(L) x 179(W) x 107(H)mm
Weight: 445g without battery
Included:
1 x Quanum Cyclops Diversity DVR FPV Goggle Headset with monitor and receivers
1 x Aomway 5.8GHz Patch Directional Antenna 6dbi (RHCP) (SMA)
1 x Quanum Pagoda Antenna (RHCP)
1 x Mount for Head Tracker
2 x EVA Foam Tape
1 x 3X Magnification Acrylic Lens
1 x Extra Nose Sponge Cushioning Strip
1 x XT60 plug power cable
1 x JST plug power cable
1 x 3.5mm audio plug to RCA cable
1 x Manual
1 x Carry Bag
Required:
2~3S LiPo Battery
Frequency Range:
FR1: 5865M 5845M 5825M 5805M 5785M 5765M 5745M 5725M
FR2: 5733M 5752M 5771M 5790M 5809M 5828M 5847M 5866M
FR3: 5705M 5685M 5665M 5645M 5885M 5905M 5925M 5945M
FR4: 5740M 5760M 5780M 5800M 5820M 5840M 5860M 5880M
FR5: 5658M 5695M 5732M 5769M 5806M 5843M 5880M 5917M
Quanum Cyclops Diversity DVR FPV Goggles - HobbyKing Product Video

Quanum Cyclops Diversity DVR FPV Goggles - HobbyKing Super Daily

Eachine ROTG02 vs Quanum Cyclops

FPV Lidl Glider mit Quanum Cyclops Diversity Unboxing deutsch
darcy | Verifizierter Käufer
Jay | Verifizierter Käufer
Goggles overall
Jun 09, 2021
GrantOS | Verifizierter Käufer
Great place to start
Jun 07, 2021
ali | Verifizierter Käufer
brilliant for money,buy them
Jun 07, 2021
darc | Verifizierter Käufer
Peter | Verifizierter Käufer
Disappointment
May 29, 2021
Quanum | Verifizierter Käufer
Goggles for you
May 27, 2021
Rebelk | Verifizierter Käufer
zubin | Verifizierter Käufer
Great product
May 18, 2021
zaosh | Verifizierter Käufer
Datei hochladen
Registrieren Sie sich, um Dateien hochzuladen.
Bitte anmelden oder registrieren um jetzt Hobbyisten zu helfen!