Turnigy MultiStar 30A BLHeli_32 4-in-1 Race Spec ESC w/ F4 FC, OSD & BEC (2-4S)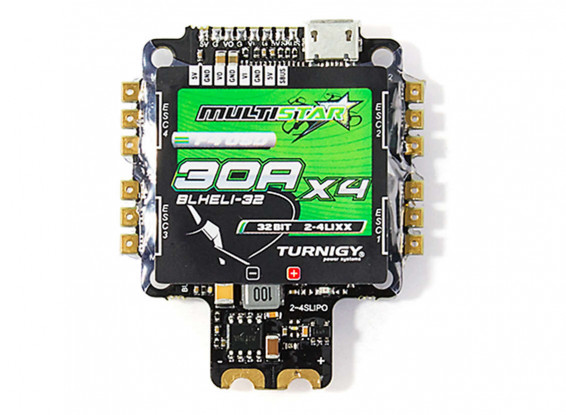 Turnigy MultiStar 30A BLHeli_32 4-in-1 Race Spec ESC w/ F4 FC, OSD & BEC (2-4S)
Kostenloser Versand?
Klicke
hier
um mehr zu lernen!
Melde Probleme
Nicht billig?
The popular Multistar 4-in-1 ESC 30A BLHeli_32 just got even better with the addition of a powerful F4 flight controller and a Betaflight OSD. The weight saving of this 36mm x 36mm combined all in one unit is fantastic as it only weighs 16.5g (without wires).
The F4 processor is gaining popularity in flight controllers due to the advantages in additional processing power and it is packed with features. The processing speed of the F4 processor is more than double that of the F1 and F3 (from 72MMz to 180MHz) which gives it incredible precision and control whilst flying.
The whole unit is very light and compact and has an easy setup process. it is the perfect solution where you are looking for outstanding performance in one small and neat package. Turnigy MultiStar BLheli_32 32bit ESCs feature a proprietary firmware that delivers a smooth linear throttle response, without sacrificing a rapid, crisp response to your throttle inputs. Each 4-in-1 ESC has plated connections to allow you to easily solder your motor wires directly to the PCB and then add your preferred connector to the pre-tinned power cables

Features:
• Compact all in one unit (4 x ESCs, FC, OSD)
• Lightweight (16.5g)
• Am Cortex-M10 MCU
• Fast response to throttle input
• Smooth and linear throttle control
• Throttle signal loss protection
• Stalled motor protection
• Supports 480Hz refresh rates
• Supports Dshot150-300-600/Multishot/Oneshot protocols etc
• Betaflight OSD

Specs:
Continuous Amps: 30A (each ESC)
Voltage Input: 2-4S (4.2-16.8V)
BEC: 5V-2A:5V-3A
Timing: Auto
Dimensions: 36 x 36mm
Mounting Holes: 30.5 x 30.5mm
Weight: 16.5g (no wires)
VOiD | Verifizierter Käufer
Sigi | Verifizierter Käufer
Faulty device received
Mar 24, 2021
Dion | Verifizierter Käufer
Very good All-in One.
Jul 05, 2020
Dion | Verifizierter Käufer
Very good All-in One.
Jul 05, 2020
Birdy | Verifizierter Käufer
lars | Verifizierter Käufer
MR LEE | Verifizierter Käufer
The multistar can be fearful
Mar 13, 2020
Mr. B | Verifizierter Käufer
Can't be beat!
May 27, 2019
Mr. B | Verifizierter Käufer
Hard to beat!
May 08, 2019
lee | Verifizierter Käufer
all good again
Jan 20, 2019
Datei hochladen
Registrieren Sie sich, um Dateien hochzuladen.
Bitte anmelden oder registrieren um jetzt Hobbyisten zu helfen!