Volantex 759-3 Phoenix 2400 (PNF) EPO Composite RC Glider Airplane (94.5")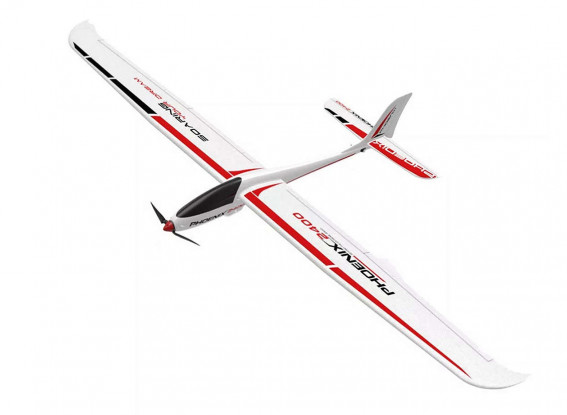 Volantex 759-3 Phoenix 2400 (PNF) EPO Composite RC Glider Airplane (94.5")
Kostenloser Versand?
Klicke
hier
um mehr zu lernen!
Melde Probleme
Nicht billig?
The Phoenix 2400 is the largest glider in the Phoenix range. It comes with an almost indestructible ABS plastic hull and strong EPO foam wings and tail section. With its smooth, stiff hull, the Phoenix is ​​durable for a lifetime and yet light enough for the glider to work without any problems. An additional canopy with camera mount is included. Once you have your camera installed, you can either enjoy FPV flying or just take pictures of your flights.

Assembling the glider is quite easy with no glue required. To make travel easier, the wing halves simply snap into place along with a rigid wing spar for added strength. The main wing is 2,400 millimeters long and contains ailerons and flaps for better aircraft control. The fuselage has a built-in single wheel for easier landing on rougher runways.

The speed controller, brushless outrunner motor and 9 g servos are all pre-installed. It should only take about 20 minutes for the rest of the build to complete, including adding your own receiver and battery.

Features:
• ABS plastic hull
• EPO foam wings with flaps
• Camera mounting platform
• Click and insert the wing assembly
• Fast construction time
• Motor, controller and servos pre-installed

Specs:
Wingspan: 2400mm
Length: 1283mm
Flying weight: 1160g
Motor: 4023-1050kV brushless outrunner
ESC: 40A brushless
Propeller: 10x6 collapsible
Servos: 9g x 6
CoG: 77 +/- 5 mm from the leading edge

Recommended:
2.4GHz 6Ch radio TX / RX system
2200mAh ~ 5000mAh 3S LiPo battery
Eric | Verifizierter Käufer
Good Value , Good Quality , Would Recommend
May 27, 2021
Mike | Verifizierter Käufer
Paul | Verifizierter Käufer
Excellent model
May 14, 2021
Ron | Verifizierter Käufer
Mario's | Verifizierter Käufer
Never arrived to me
Apr 09, 2021
Jeroen | Verifizierter Käufer
Great value, but ...
Apr 04, 2021
Better than expected | Verifizierter Käufer
Phoenix 2400 | Verifizierter Käufer
great, but...
Feb 05, 2021
Craig | Verifizierter Käufer
Wonderful powered glider
Jan 28, 2021
Tommo | Verifizierter Käufer
Looked great however parts missing
Jan 01, 2021
Datei hochladen
Registrieren Sie sich, um Dateien hochzuladen.
Bitte anmelden oder registrieren um jetzt Hobbyisten zu helfen!