FrSky 2.4GHz ACCST TARANIS X9D PLUS Special Edition (Mode 2) (EU) (Carbon Fiber)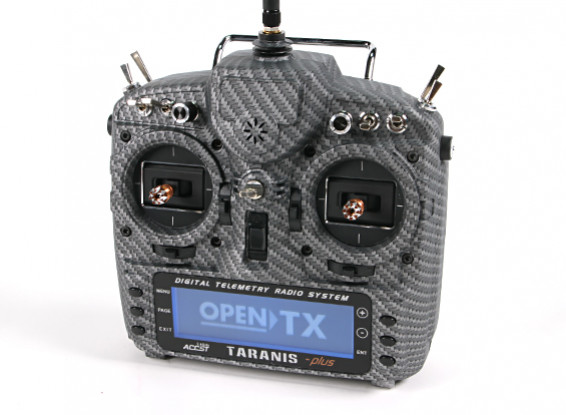 FrSky 2.4GHz ACCST TARANIS X9D PLUS Special Edition (Mode 2) (EU) (Carbon Fiber)
Kostenloser Versand?
Klicke
hier
um mehr zu lernen!
Melde Probleme
Nicht billig?
FrSky has taken the TARANIS X9D Plus to a new level with the release of the Special Edition. The transmitter comes with a new wrap to create an exciting carbon fiber look. There have also been huge improvements and the transmitter now comes with M9 Hall Sensor gimbals and customized M4 CNC aluminum gimbal stick ends which are combined with upgraded switches to provide a superior feel to controlling your models. The Special Edition a detachable SMA antenna so you can use your antenna of choice.
As well as these changes the Special Edition keeps all the well-known features of the standard TARANIS X9D Plus such as their frequency hopping ACCST technology, that takes advantage of the entire 2.4GHz band, resulting in excellent range and reliability. It also keeps the high quality, better contrast LCD display that is adjustable from blue to white, and the built in haptic vibration feedback. This means you can be alerted silently or use the existing built in voice or alarm features.
The TARANIS utilizes Voice Alerts from an internal speaker, versus just an annoying beeper. For things like; audible Count down timers, low voltage warnings, landing gear down warnings etc., Just about anything can be programmed, you can even use your own voice. The SD card slot offers unlimited memory options and a USB port for upgrades even a headphone jack.
The TARANIS mixes the power of the "OPEN TX" open-source software with an unbelievable ergonomic case with 8 programmable switches, two twist knobs and two easy to get to lateral 'slider' pots.
One of the best features of the TARANIS is its full telemetry capability, as well as RSSI signal strength feedback, there are 3 different programmable failsafe modes and receiver lock, so no more crashes due to selecting the wrong model. If you have stock in other brand receivers or B&F's, no worries the TARANIS has a JR style RF module slot, so you have the option of other brand modules such as the Orange DSM2/DSMX compatible or Open LRS 433mhz module, or pop in another Frsky module to expand the transmitters capabilities even more with dual RF.
When you put it all together the TARANIS X9D Plus Special Edition is the transmitter of choice.
Features:
• RSSI alarms (warns you of reception problems before it becomes an accident)
• 16 channels (more when combined with external module)
• 64 mixers, 9 flight modes
• 16 custom curves with 3-17 points each, 32 logic switches
• Self-test of the transmitter antenna
• 60 Model memory (expandable via a SD card)
• Audio Speech outputs (values, alarms, settings, etc.)
• USB and SD card slot for unlimited memory, and firmware upgrades, sound editing.
• Long range system capable of up to 3 times the range of current systems
• Quad bearing gimbals that are silky smooth
• State-of-the-art open source software (open TX)
• Super low latency for ultra-quick response (9ms)
• Large adjustable backlit blue to white LCD display
• Real-time flight data logging
• Receiver match
• JR Style module bay for additional RF modules
• Processor: STM32 ARM Cortex M3 60MHz
• Haptic Vibration Feedback Command Feature
• Smart Port Supported
Specifications:
Model name: Taranis X9D Plus Special Edition
Number of Channels: up to 16
Battery: 2000mAh
Operating Voltage Range: 6-15v (2s, 3s Lipos are acceptable)
Operating Current: 270mA maximum (both RF module and backlit are on)
Operating Temperature: -10~60C
Backlit LCD Screen: 212x64 2 color combinations for select
Model Memories: 60 (expandable by SD card)
Compatibility: FrSky X series, D series and V8-II series receivers. Taranis X9D Plus-EU version is only compatible with X series receiver EU version.
Stick mode: Mode 2 (Left-hand throttle)
Includes:
1 x Taranis X9D ACCST 2.4GHz Transmitter (Mode 2 version)
1 x 2000mAh battery
1 x Special Edition padded carry bag
1 x Neck strap
2 x Gimbal protectors
1 x EU Charger
1 x User Manual
Dumle | Verifizierter Käufer
A whole new world!
Dec 16, 2018
Ferdinand | Verifizierter Käufer
Datei hochladen
Registrieren Sie sich, um Dateien hochzuladen.
Bitte anmelden oder registrieren um jetzt Hobbyisten zu helfen!