Basher "PitBull" 4WD 1/18 Mini Desert Buggy (RTR) NL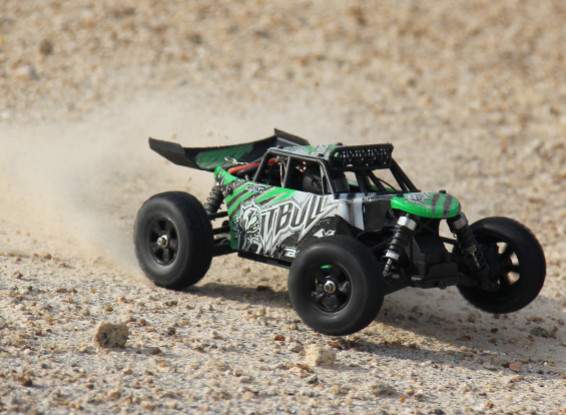 Basher "PitBull" 4WD 1/18 Mini Desert Buggy (RTR) NL
WANT FREE SHIPPING?
Click
here
to find out more!
Report Issue
Not Cheapest?
Copy and Share the Below URL
Basher "PitBull" 4WD 1/18 Mini Desert Buggy (RTR) is just like its namesake, small, tough and aggressive and should never be underestimated. This little desert buggy is the perfect crossover between indoors and outdoors and will happily jump down the steps at the back door and scream around the yard with no risk to your precious plants or lawn. But don't let its size fool you this 4WD is capable of serious speed and can take jumps that are usually reserved for 1/10 off-roaders.
The PitBull needs all the grip it has in its super soft tyres to transfer the power from its 3530kV brushless motor that is crazy quick on 2S and ludicrous on 3S, try this at your own risk and get some lead to put in the front unless you like driving on the rear wheels.
It has a super durable drivetrain and suspension but we know you are going to want to push the PitBull to its limits, so there is a great range of aluminium upgrades available to take it beyond what most people would consider reasonable abuse.
Not only is the PitBull fun and tough it also comes as a true ready to run with a radio, 1500mAh LiPoly and 2S/3S charger which makes it the perfect gift or first RC car for kids and adults alike.
We have been running the PitBull around the office, the car park and the local playground for a while now and it's hard to put the radio down. So if you want a serious little buggy for fun inside or outside the house this is the one to get.

Features:
• Almost Ready to Run and Ready to Run versions
• Ready to Run version come with 2S Lipo battery and charger
• Shaft drive 4WD with front and rear diff
• Powerful 3530kV brushless Motor
• 2S-3S Capable ESC
• Full parts support and aluminium upgrades available

Specs:
Length: 250mm
Width: 165mm
Height: 100mm
Wheelbase: 166mm
Wheel Diameter: 61.5mm
Wheel Width: 26mm
ESC: 30A – 2S-3S Capabale
Motor: 3530kV Brushless
Battery compartment size: 34mmx100mm
Radio: 3CH 2.4Ghz radio

Requied:
4 x AA size battery for radio
Shipping Weight

2410.0000
Basher PitBull" 4WD 1/18 Mini Desert Buggy "
auto molto carina,ne ho aquistati 2,una purtroppo col motore fuso,l auto e molto carina e divertente,e anche se gli ingranaggi sono in plastica direi che fin ora hanno tenuto bene anche a 3s,purtroppo non si riesce a tenerla dritta sia nello sterrato sia nel asfalto,tende molto ad andare di traverso nel posteriore,forse per le sue piccole dimensioni,nel complesso dato il costo gli do un bel 7
auto molto carina,ne ho aquistati 2,una purtroppo col motore fuso,l auto e molto carina e divertente,e anche se gli ingranaggi sono in plastica direi che fin ora hanno tenuto bene anche a 3s,purtroppo non si riesce a tenerla dritta sia nello sterrato sia nel asfalto,tende molto ad andare di traverso nel posteriore,forse per le sue piccole dimensioni,nel complesso dato il costo gli do un bel 7
I have had this car for a week. And every one loves it. This is my first RC car but I didn't want to spent a load of money on the bigger ones. This car is really fast with the 2S battery it came with. (I also ordered a second turnigy battery with same specs).

First issue: After three charges the original battery only lasted 3minutes and the second one I bought was the same. I was then offered a high end charger where you can balance charge your cells. It took me 1 full day to get the batteries Cells both charged to the same Voltage but in the end I spent 1hour racing aroung the car and still haven't run out of battery. I still have 6pcnt left. I would recomment buying a balancing charger instead of using the stock one. Now that the battery is balanced I can charge it normally which takes only 30minutes.

another thing is... on the front end of the car. The rods will pop off if you hit a wall full throttle. But... You do not need any tools to put them back in and your back on the road.

I love it,
I have had this car for a week. And every one loves it. This is my first RC car but I didn't want to spent a load of money on the bigger ones. This car is really fast with the 2S battery it came with. (I also ordered a second turnigy battery with same specs).

First issue: After three charges the original battery only lasted 3minutes and the second one I bought was the same. I was then offered a high end charger where you can balance charge your cells. It took me 1 full day to get the batteries Cells both charged to the same Voltage but in the end I spent 1hour racing aroung the car and still haven't run out of battery. I still have 6pcnt left. I would recomment buying a balancing charger instead of using the stock one. Now that the battery is balanced I can charge it normally which takes only 30minutes.

another thing is... on the front end of the car. The rods will pop off if you hit a wall full throttle. But... You do not need any tools to put them back in and your back on the road.

I love it,
https://www.youtube.com/watch?v=i70BwVZGzzo
https://www.youtube.com/watch?v=i70BwVZGzzo