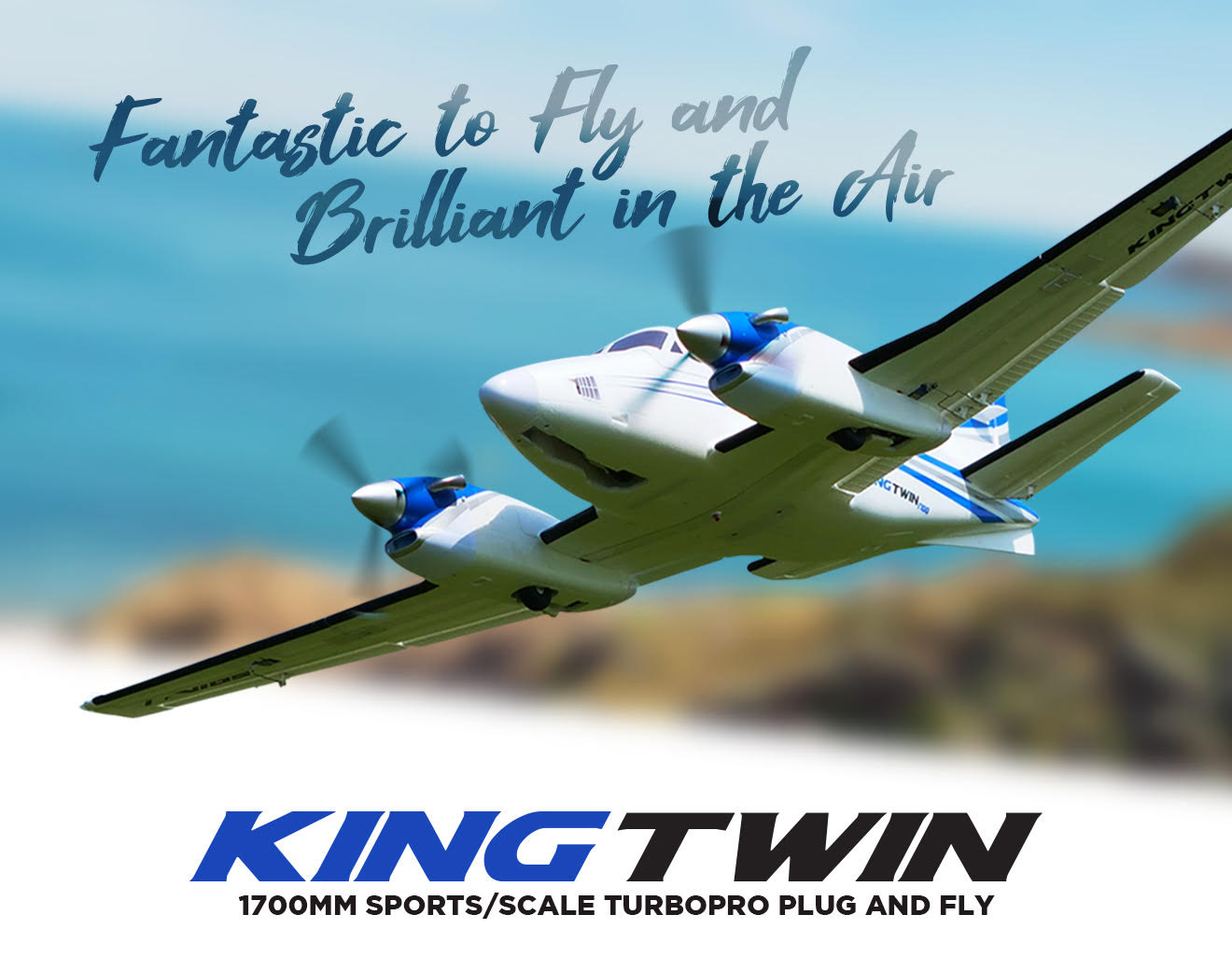 Fantastic to Fly and Brilliant in the Air
The Avios KingTwin 1700 is a great-looking model based on a small twin-turboprop. It is very reminiscent of the type used by the military or civilian charter airlines around the world. The simplistic, yet striking color scheme depicts the type of paint jobs commonly used on civilian propliners.
This model is very detailed and is sure to be a hit with any aviation enthusiast with the ability to operate happily off of smooth, short-grass fields, and of course hard runway surfaces. The split flaps enable scale take-offs and landings, and the daylight visible LED lights add that touch of realism. Packed full of cool features including LED lights, retracts and split flaps. The powertrain of 2 x Aerostar 3748-820KV brushless outrunners with Aerostar 40A ESCs was chosen by the Avios team after careful testing. This combination of motors, ESCs, contra-rotating props, and a 4S LiPo battery proved to be the optimum setup for power and duration.
For transportation, the outer wing panels feature a unique latching system that allows for quick and easy assembly and removal. This system also includes a quick connect/disconnect plug and socket for the servos and LED lights. Throughout, the KingTwin 1700 uses the very popular and reliable Turnigy HXT900 servos - this is a first for an Avios model. Due to the low parts count of the tough EPO airframe, and being PNF, the KingTwin 1700 is very quick and straightforward to put together, most of it has been pre-assembled at the factory.
The Avios KingTwin 1700 is fantastic to fly and looks brilliant in the air. It has excellent low-speed handling, and at speed, it really grooves and locks in. It's a real pleasure to fly. This impressive twin-engined model is a worthwhile addition to any modeler's hangar for its looks, ease of assembly, and excellent flight characteristics.
Features:
A great looking sport/scale model of a typical twin-engined turboprop
The powertrain is optimized for performance and duration
Retractable landing gear, split flaps and working, daylight visible LED lights
Unique detachable wingtips for easy transportation
Low parts count for easy, quick assembly of the EPO airframe
Plug N Fly - motors, ESCs, HXT900 servos, and LED lights are pre-installed at the factory
Excellent flying characteristics, especially at low speeds
Get the AVIOS (PNF) KingTwin 1700 Sports/Scale Executive Turboprop Airplane (1700mm)
Get the Avios (PNF) KingTwin 1700 (White Version) Sports/Scale Executive Turboprop Airplane (1700mm)
---
Hear it First: Join our Mailing List
Sign up to receive new product updates, exclusive discounts, news, and more!