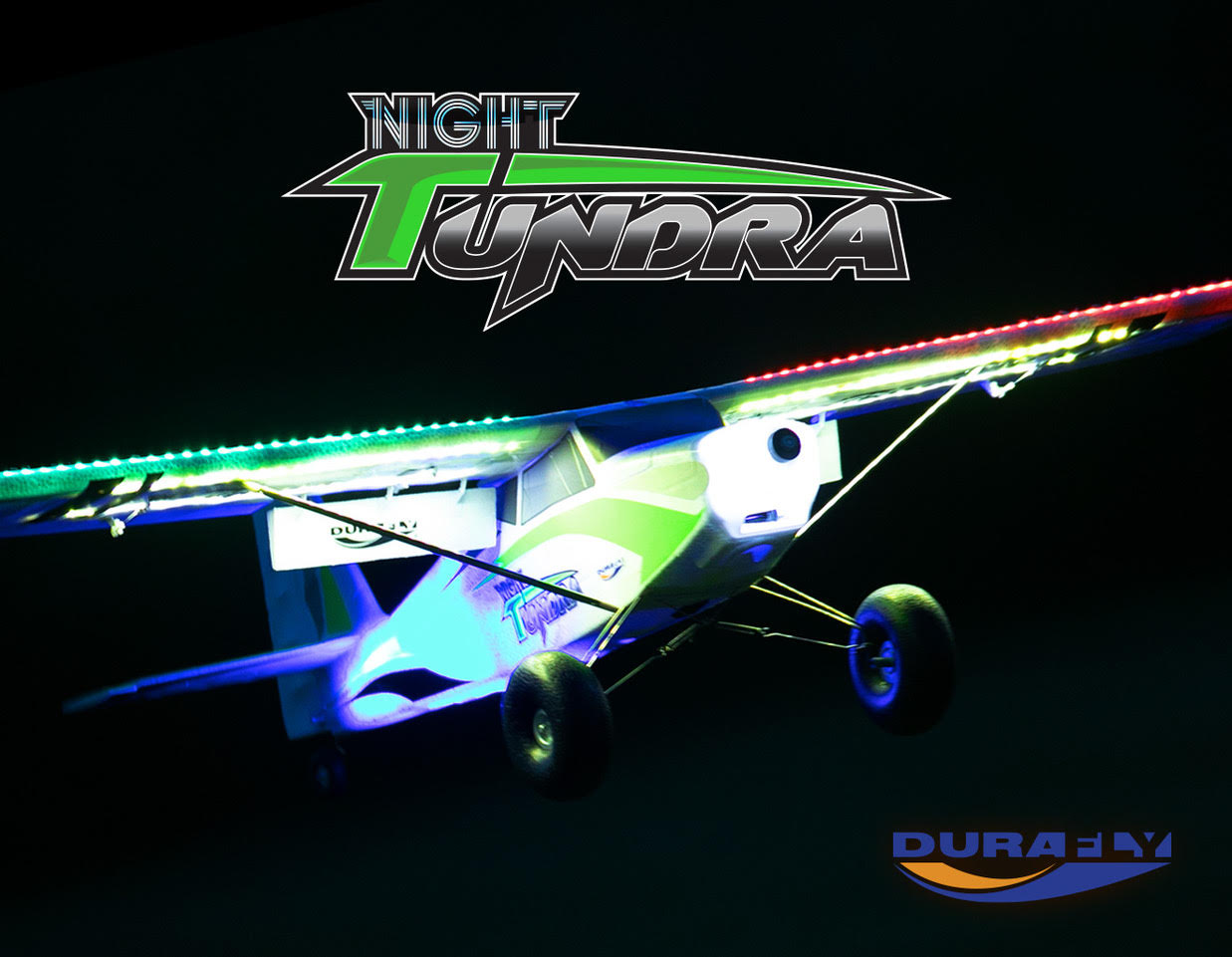 With the Night Tundra, There are Literally no Limits!
With the Night Tundra you can take on the very best mother nature can throw at you in daytime or nighttime. You can fly extremely fast due to the very straightforward and speedy assembly process. It follows in the footsteps of the famous and firmly established Tundra series.
No longer do you have to finish flying when the sun sets, with the incredible, super-bright light system on the Night Tundra you can just carry on into the twilight and beyond. The Night Tundra retains the no-limits flying characteristics of the original Tundra. Whether it's flying from rough bush fields, water, snow, or sand, FPV flying, aerobatics, glider towing, candy dropping (with optional part), or just good old-fashioned super STOL slow-flying, the Night Tundra takes it all on with ease. Its lightweight yet rugged and beautifully finished EPO foam construction, powerful brushless set-up, and perfectly harmonized design give you instantly a feeling of confidence on the sticks as quickly as it puts a smile on your face.
The improvements on the Night Tundra include the vortex generators added to the leading edge of the wing to increase stability at slow speeds, a more secure and easier to install landing gear thanks to machine screws and brass inserts, and the metal landing gear cross braces for improved durability. Also included is the enhanced battery tray, wing connectors, wing mount, upgraded motor, and Aerostar 40 amp ESC with reverse.
Features include a super bright LED lighting system for twilight and night flying. A two-piece wing with dedicated wing connectors and beautifully molded, rugged EPO construction. It also includes a pre-installed 3S powertrain offering near-vertical performance, bush-style landing gear with huge molded foam rubber wheels, and an improved metal cross brace mount. For true STOL performance and super slow flight, it has 'barndoor' style flaps and vortex generators. And lastly, the FPV canopy tray, floats, and water rudder are included.
Get the Durafly Night Tundra (PNF) STOL/Sports Model w/Full LED Lighting System EPO 1300mm (51")
---
Hear it First: Join our Mailing List
Sign up to receive new product updates, exclusive discounts, news, and more!