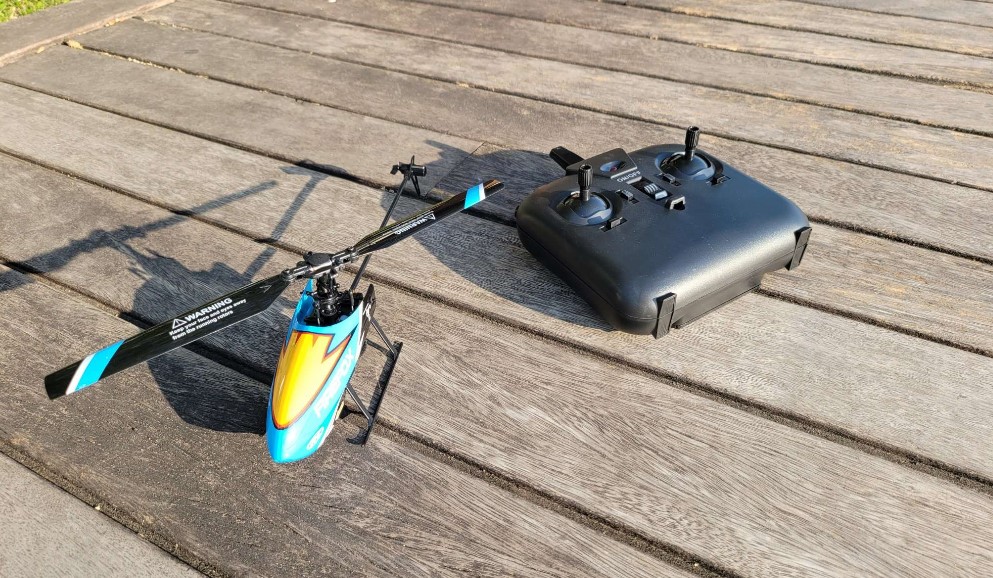 Ready-to-Fly (RTF): Hassle-Free, Maximum Fun
If you are looking for instant fun and gratification, then this micro RC helicopter completely fits the bill. With no assembly required, this ready-to-fly (RTF) model is perfect for beginners, kids, and even seasoned hobbyists that love to have fun.
Complete with a 2.4GHz 4-channel transmitter, this out-of-the-box electric RC helicopter allows you to climb or descend, fly backward and forwards, fly left and right, and rotate left and right – much more sophisticated than the conventional 2 or 3 channel micro helis on the market today.
Micro-Sized: Great for Indoor and Outdoor Flying
Smaller models are generally harder to fly due to their jittery behaviors. However, because the Firefox C129 comes with a 6-axis gyro, its stable flight qualities combined with its size enable you to fly it as both an outdoor and indoor RC helicopter. Fly it at the park, your backyard, the local gym, or even within the comforts of your home – accessibility is never a problem with his little fella.
6-Axis Gyro: Superior Stability and Flight Characteristics
If you have ever tried flying an RC model indoors, then you will know just how difficult and uncomfortable it can become. They can be very twitchy and even after hours of trimming your model, you will never know where they might end up. It is like trying to balance a pencil on the tip of your finger while you're at the alcohol aisle of a grocery store - it can get very ugly!
Not a problem with the Firefox C129. The flybarless system coupled with the 6-axis gyro stabilization unit gives this electric RC helicopter unparalleled stability and control. The flybarless design also reduces the risk of damage to the helicopter in the event of a crash and increases the flight time due to less drag.
Feature-Rich: Value for Money
Is the Firefox C129 on sale? No, it is just that affordable. With a price tag of only $49.99 USD, you will have everything you need pre-built and ready to fly (RTF). Does the price imply compromised quality? Not at all. This cheap, quality-built, RC helicopter is manufactured with high-performance components and materials which provide strength, are impact-resistant, and made to last. It also comes with many nifty features such as the option to fly in Mode 1 or Mode 2, the option to increase or decrease the amount of rudder authority, an "altitude hold" function, an auto take-off and landing button, and much more.
Can you really ask for more? The Firefox C129 is truly the best RC helicopter for beginners and enthusiasts alike.
---
Hear it First: Join our Mailing List
Sign up to receive new product updates, exclusive discounts, news, and more!