Feiyu Tech FY-41AP-A Fixed Wing Flight controller With OSD, GPS, Air Speed And Power Sensor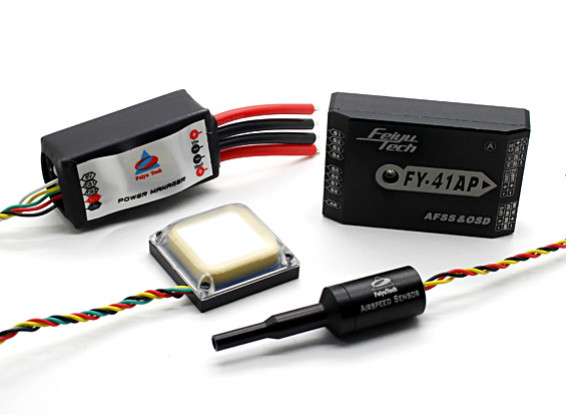 Feiyu Tech FY-41AP-A Fixed Wing Flight controller With OSD, GPS, Air Speed And Power Sensor
WANT FREE SHIPPING?
Click
here
to find out more!
Report Issue
Not Cheapest?
Copy and Share the Below URL
The FY-41AP Flight controller is an inertial attitude measurement instrument used for FPV flight on fixed wing aircrafts. The FY41AP has an integrated OSD video overlay system that presents critical flight information such as power management, airspeed, altitude, and flight direction via its electronic compass, allowing for a clear visual flight while ensuring key information is within sight. Flight stabilization is achieved via an integrated 3 axis gyro, 3 axis accelerometer, 3 axis magnetometer, barometric pressure sensor, GPS, air speed sensor and Power management sensor. This enables the module to accurately measure flight attitude, earth azimuth & relative altitude to achieve stabilized flight and supports a host of available flight modes
• Deactivated Mode —— In this mode, the FY-41AP auto stabilization is turned off. The aircraft is completely under pilot control.
• Stabilized Mode —— Level flight is automatically maintained, making flight simple, especially for beginners. If a pilot feels the plane is out of control, simply reduce input control and the plane will automatically recover level flight.
• 3D Mode —— If no input is given by the pilot (all sticks in the middle position), 3D mode will lock the current aircraft attitude. Therefore the aircraft can be easily maneuvered to complete a variety of 3D flight with added stability & smoothness.
• Fixed altitude & Heading lock Mode —— This mode maintains aircraft flight course & holds the altitude on activation. By using GPS data, the system automatically corrects flight course deviation & maintains straight-line flight.
• FWaypoint Navigation Flight Mode —— Enable you to fly fully autonomous, with up to 20 waypoints settings via the FY Ground Control Station (GCS) software.
• Auto Return To Launch Mode (RTL) —— Upon activation of this Mode, the aircraft will automatically return to the Home point, maintaining its current altitude. Upon reaching the Home point, it will initiate auto circling.
Please read more about the FY-41AP here http://www.feiyu-tech.com/product-en.php?id=32
Features:
• Control parameters setting, course setting thru the GCS software
• Real time data monitoring
• Data logging for post flight analysis
• Camera stabilization outputs
• Multiple flight modes
• Integrated OSD
• GPS and Power sensor included
Specs:
Supported aircraft: Traditional fixed-wing, Delta w/rudder, Delta w/o rudder, Plane w/o aileron, V-tail with and w/o aileron
Supported Servo output: 50Hz refresh frequency
FY-41AP Module Working Voltage: 5.3V@0.2A( Powered by Power Manager
Power Manager Specs:
Working Voltage Range: Power of battery 7~26V (2S ~ 6S)
Measuring current:0 ~25A
Power for FY-41AP module: 5.3V@2A
Power for Video transmission system : 2V@2A
Assistant Software System Requirement: Windows XP sp3 / Windows 7 / Windows 8
Flight Performance:
Max Yaw Angular Velocity: 150°/s
Max Tilt Angle: 35°
Ascent / Descent: -1.5m/s ~ +3m/s
Weight & Dimensions specs:
FY-41AP: 34g (58×37×19mm)
GPS :24g (32×32×13.5mm)
Power Manager:35g(50×24×18mm)
Includes:
FY-41AP Flight controller w/OSD
Power Module/sensor
Airspeed Sensor
GPS
USB interface
Vibration mount
Cables