HobbyKing® ™ X-Car Beast Series ESC 1:10 Scale PRO 120A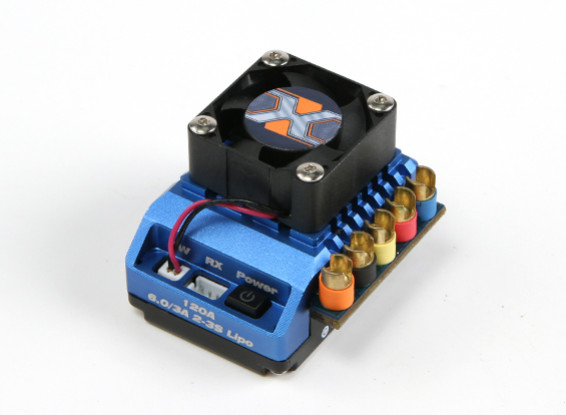 HobbyKing® ™ X-Car Beast Series ESC 1:10 Scale PRO 120A
WANT FREE SHIPPING?
Click
here
to find out more!
Report Issue
Not Cheapest?
Copy and Share the Below URL
HobbyKing® ™ X-Car Beast Series ESCs offer excellent performance and features at a great price. With precise throttle linearity, smooth startup/acceleration, strong brakes and fully adjustable programming options, you will not find a better value in R/C car ESCs on the market today!

Built with high quality components, and offering both sensored and senorless motor operation, the 1/10 Scale 120A Pro series ESC offers truly versatile and high performance that won't break the bank.
Features:
• Enhanced throttle response for excellent accelleration
• Uses advanced PC interface to set up or update firmware
• Uses LCD program cards
• Throttle curve and punch rate adjustment
• Dynamic boost timing and turbo timing adjestment
• Brake curve and brake rate adjustment
• Dynamic running data log
• Multiple protection features including low voltage cut off protection, over heating protection and throttle/signal loss


Specs:
Continuous Current: 120A
Burst: 760A
Resistance: 0.0003ohms
Suitable Motor Type: 540 sensored brushless motor
Battery: 2 ~ 3S Lipoly 5~10S NiMH/NiCd
BEC Output: 6.0V/3A
Dimensions: 41.5x37x21mm
Weight: 102g
Does this ESC upgrade software? I use the WiFi card to set the 7.2V, but it's not always set
Does this ESC upgrade software? I use the WiFi card to set the 7.2V, but it's not always set
Finally tested it in competition, like it very much and going to replace my former X-CAR 120A (HW compatible). Didn't actually try boost and turbo since it was clay track. POSITIVE: 1) reliable design of fan mounting. 2) Rich setup for boost and turbo 3) rotation reverse setup (available only from PC) 4) two BEC voltage 6v & 7.4v . NEGATIVE (not important for me): 1) rotation changes to reverse if you change some parameter from programming card. You have to run PC to set rotation back to normal. 2) First attempts to run had blinking pink at the beginning instead of steady blue. After some runs\setups (both PC & card) it become correct steady blue, don't know how. 3) Software font and text color on Win7 is weird and difficult to use and match with descriptions. Need some time to become familiar.
Resume - PC software & firmware have inconvenient bugs to be fixed
Finally tested it in competition, like it very much and going to replace my former X-CAR 120A (HW compatible). Didn't actually try boost and turbo since it was clay track. POSITIVE: 1) reliable design of fan mounting. 2) Rich setup for boost and turbo 3) rotation reverse setup (available only from PC) 4) two BEC voltage 6v & 7.4v . NEGATIVE (not important for me): 1) rotation changes to reverse if you change some parameter from programming card. You have to run PC to set rotation back to normal. 2) First attempts to run had blinking pink at the beginning instead of steady blue. After some runs\setups (both PC & card) it become correct steady blue, don't know how. 3) Software font and text color on Win7 is weird and difficult to use and match with descriptions. Need some time to become familiar.
Resume - PC software & firmware have inconvenient bugs to be fixed
To start with my conclusion after one day of practice : Wow !
This X-CAR BEAST Series is a step up from the old X-Car ESC's.
As i already knew that my Speed Passion Reventon Pro (SPRP)was a better ESC in Blinky 17.5T i did not realy have to test this so i started the practice with the SPRP in my car (TRF 419). And i was really happy with the handling and the times i was driving. Then i switch to the BEAST and .... Wow. There was even more punch coming out of the corners then with the SPRP and i had to lower the punch rate for the throttle to not have wheel spin and over or under shoot my next corner. After this adjustment i had my fastest laps of the day and was easy to drive consistent fast laps. Next week i will put in in my Modified car and ?
Only 2 small Cons : Small and noisy fan. A and C connections on the ESC reversed. ( Cables cross on motor )

To start with my conclusion after one day of practice : Wow !
This X-CAR BEAST Series is a step up from the old X-Car ESC's.
As i already knew that my Speed Passion Reventon Pro (SPRP)was a better ESC in Blinky 17.5T i did not realy have to test this so i started the practice with the SPRP in my car (TRF 419). And i was really happy with the handling and the times i was driving. Then i switch to the BEAST and .... Wow. There was even more punch coming out of the corners then with the SPRP and i had to lower the punch rate for the throttle to not have wheel spin and over or under shoot my next corner. After this adjustment i had my fastest laps of the day and was easy to drive consistent fast laps. Next week i will put in in my Modified car and ?
Only 2 small Cons : Small and noisy fan. A and C connections on the ESC reversed. ( Cables cross on motor )