The CEL robox RBX01 3D Printer (US plug)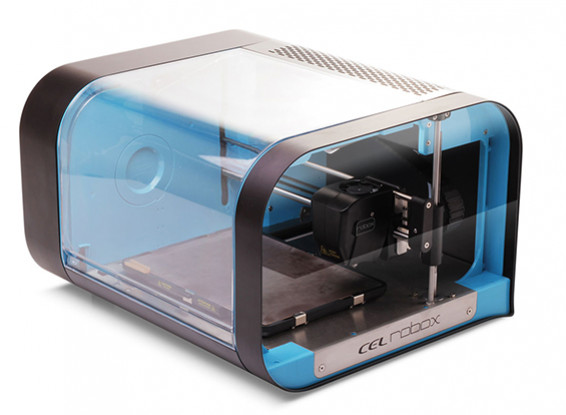 The CEL robox RBX01 3D Printer (US plug)
want FREE shipping?
Click
here
to find out more!
Report Issue
Not Cheapest?
Copy and Share the Below URL
The CEL robox 3D Printer is what other 3D printers want to be. This is simply the most refined, well designed and easy to use printer on the market today. It was voted 3D Hubs Best Plug 'N' Play printer of 2016 and has consistently received accolades from 3D printer reviewers around the world.
A soon as we tested this UK designed printer we knew we had to get it in for our customers because not only is it a consumer electronics quality product, it is also one of the best printers we have ever used (and we have tested a lot). You could give this printer to virtually anyone and they will be printing models in 15 minutes; simply plug it in, load the included software and filament and you're good to go.
The CEL robox has some really cool features that will make even the most experienced 3D printing boffin happy, such as an automatic filament loader, super convenient spool holder (when using robox proprietary filament) and a self levelling heated print bed that includes a removable ThermoSurface™ cover that is suitable for all filament types so no more hair spray or taping up the print bed.
One of the key features of the CEL robox is its unique HeadLock™ tool change system, which allows the print head to be easily removed and replaced with future tools. Already CEL have announced the release of their dual filament print head and they are currently working on other tools such as a machining rig, a 2D drag knife cutter and even a paste extruding system for ceramics and chocolate. We will be listing these add on tools as soon as they become available.
Even the smallest details have been thought through on this printer with features such as the nozzle cleaning station that wipes the print nozzles of any excess filament ooze after the head has heated. It even has a purge function that will clean the system of the remnants of the last filament used so you can be confident your next project won't have another material mixed in.
The SmartReel™ System (filament stock will be arriving soon) will automatically change the settings for bed and nozzle temperatures as soon as you plug in the spool and it will even be able to tell you how much filament you have used and how much the model has cost. But you are not limited to using the robox filament, indeed we tested this printer on a variety of different filaments from other manufacturers and continued to get excellent results every time.
One of the other great features of this printer as the ability to close the cover which turns the print area into a heated chamber to ensure ABS doesn't curl when printing.
Sure this may not be the biggest or the fastest or the cheapest printer on the market but there is no doubting that it is the simplest and best quality printer you will find anywhere and for thousands of dollars less than you would pay for anything near this standard.
Features:
• Speed – Dual Nozzle System
• Large High Torque Stepper Motors with High Resolution Axes
• Separate Build Chamber and Electronics Enclosure
• Automatic Build Platform Levelling
• Extruder Construction and Feedback Loop
• Nozzle Valve System
• Included AutoMaker software uses Cura or Slic3r Software
Specs:
External Dimensions: 370 x 340 x 240 mm
Build Volume: 210 x 150 x 100 mm
Weight: 8.4 kg
Best Layer Resolution: 20 microns
Fully Assembled: Yes
Nozzle Diameter(s): 0.3mm and 0.8mm
Interchangeable Print Head: Yes
Heated Build Plate: Yes
Tapeless Build Plate: Yes
Fully-Automatic Build Plate Levelling: Yes
Extruder Support: Dual
Modular Extruder: Yes
Filament Diameter: 1.75 mm
Automatic Material Recognition : Yes
Materials Supported: ABS, PLA, HIPS, PETG, CO-PET, Nylon
3rd Party Filament Compatibility: Yes
Mid-Print Pause / Resume: Yes
Safety Enclosure: Yes
Internal Lighting: Full RGB
Voltage: 110V-240V