Skyzone P&P 25mW Set w/TS5825 Tx, RC832 Rx And Sony 480TVL CCD Camera and C/P Antennas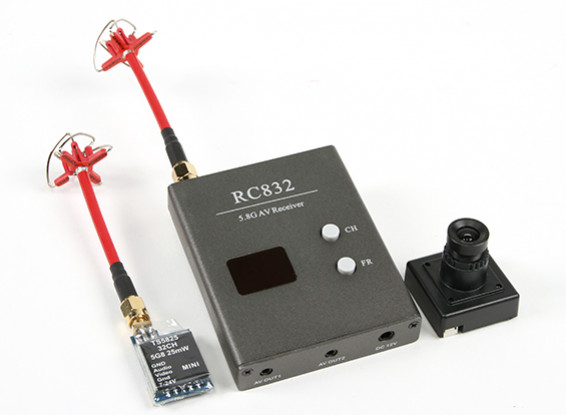 Skyzone P&P 25mW Set w/TS5825 Tx, RC832 Rx And Sony 480TVL CCD Camera and C/P Antennas
want FREE shipping?
Click
here
to find out more!
Report Issue
Not Cheapest?
Copy and Share the Below URL
The Skyzone P&P 25mW FPV set was configured from the ground up to be a plug and play system, all cables are pre-manufactured with matching connectors, so no soldering or guesswork is required. The set is so complete even a "Y" power splitter is included for powering the video receiver and a set of goggles or a monitor via a single XT60.

The set includes the TS5825 25mW CE approved transmitter that provides ultra clean 5.8GHz power in a micro sized video/audio TX. Great for pilots looking to reduce size and weight while maintaining great performance. The TS5825 is transmitting a full range of 32 channels weighs in at just 8g.
The FPV set also includes a matched cable set for the included Sony CCD 480TVL camera. For power the cables have JST connectors and a battery balance port power adapter. At the heart of the set is the RC832 Receiver which is the perfect size for easy integration into your ground station or DIY goggles.
The receiver uses the same two button interface, making channel swapping a breeze. There are 2 independent A/V outputs for both audio and video, which enables you to use a monitor and a set of goggles or maybe a DVR to record your flight. The receiver is supplied with 2 power cable options for mini JST or "Y" XT60 for receiver and monitor/goggle power.

To finish the P&P set off a Sony FPV tuned 480TVL CCD camera is included with all matching cables and a set of 5.8GHz Circular polarized antennas for maximum performance. This set will get you FPV flying in no time, and is a perfect match to the Quanum DIY goggles for a budget minded set up!

Features:
• P&P connection no soldering required
• Circular Polarized Antenna set included (LHCP)
• Two switching buttons for the band and channel with LED display on VRX
• Power off memory for last channel and band
• dual independent video and audio signal outputs
• Micro sized 25mw VTX - perfect for use with small models
• 32 channels: Cover A, B, E bands and F bands
• Transmitter frequency: 5645-5945MHz with 25mW power output
• CE approved transmitter
• 480TVL Sony CCD FPV camera

TS5825 Transmitter Specs:
Modulate: Wideband FM modulation
Power: 25mW
Video Format: NTSC/PAL
Output Impedance: 50 Ohm
Output Power: 26~27dBm
Channel: 32CH
Operating Voltage: 7~24v
Supply Current: 220mA
Audio Carrier Frequency: 6.5MHz
Connector: RP-SMA
Dimension: 38mm x 20mm x 6mm
Weight: 8g (without antenna)

RC832 Receiver Specs:
Antenna connection: RP-SMA
Power input: 12V
Antenna impedance: 50Ω
Rx sensitivity: -90dBm
Video impedance: 75Ω
Video format: NTSC/PAL auto
Dimension: 80x 65 x15mm

Camera Specs:
Sensor: 1/3 Sony CCD sensor
Resolution: 480TVL
Illumination: 0.01lux

Package Includes:
TS5825 5.GHz 25mW 32CH A/V transmitter
RC832 32CH Video receiver
480TVL Sony CCD camera
Circular polarized antenna set (LHCP)
GoPro USB to A/V cable
P&P cable set for camera and VTX
XT60 power Y cable set for receiver and goggles
Standard power wire set
A/V cable set (RCA)
Standard wire lead
Balance plug to JST for CAM/VTX power
Spare DIY A/V cables

Frequency range:
FR1 5865,5845,5825,5805,5785,5765,5745,5725
FR2 5733,5752,5771,5790,5809,5828,5847,5866
FR3 5707,5685,5665,5645,5885,5905,5925,5945
FR4 5740,5760,5780,5800,5820,5840,5860,5880