Supermarine Spitfire Mk IX composite 50cc Gas 2250mm (ARF)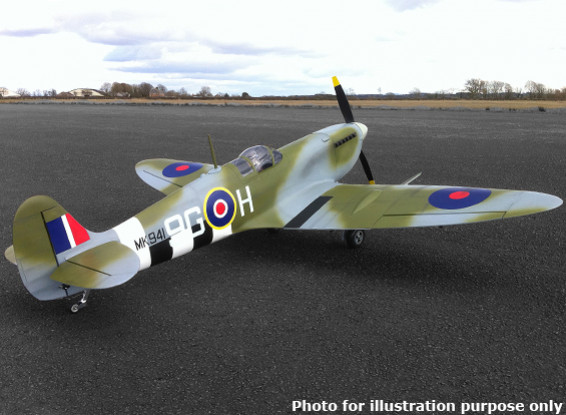 Supermarine Spitfire Mk IX composite 50cc Gas 2250mm (ARF)
want FREE shipping?
Click
here
to find out more!
Report Issue
Not Cheapest?
Copy and Share the Below URL
Of all the various marks of the legendary Spitfire, the Mk IX is considered to be probably the finest overal in terms of it's balance of agility, speed and firepower, developed as an answer to the FW190, this iconic version of the Spitfire was one of the best fighters of the war, the Mk IX played a large part in winning Allied air superiority and was so effective, it was still in service until the end of WW2.
This superbly finished Spitfire features a composite fuselage and balsa wings, horizontal stabilizer & rudder. This model has been really well thought out, the 2 pc plug in wings and horizontal stabilizer make the model very practical, both in terms of transportation and field assembly. Another neat feature is the quick realease canopy which features a seperate cockpit, this not only allows easy access to the fuselage, it also gives the modeler the freedom to build a full scale cockpit interior relativley easily. The excellent quality hardware also includes scale details such as radiators, cannon blisters, aerial mast, wheel covers and so on. This model will require retracts (not included) and we have a specially designed, scale full set available for this stunning Spitfire.
This model has an amazingly low flying weight as a result of good design and build quality, performance with a 50cc gas engine fitted will be amazing, large, scale 300ft loops and so on will be the order of the day, the Spit also lends itself to a practical electric power conversion as the batteries can be accessed so easily. There is no doubt, this beautiful Spit is an amazing giant scale model, in fact with a little work, it would be super scale/show standard, yet at a price that makes it affordable to many warbird fans, the sight of this Spitfire "beating up" your club field will make you the envy of you fellow pilots!
Specs:
Wingspan: 2250mm
Length: 1894mm
Wing Area: 86.5dm2
Flying Weight: 8000g
Requires:
7~8 Channel TX/RX
9 x MG High Torque Standard size servo
50cc Gas Engine (or electric equivalent)
RX Battery
121mm Spinner
Tailwheel
Retractable Undercarriage
Supermarine Spitfire MK IX
MaximusInfidelis | Verified Buyer
Customer Rated
Oct 14, 2014
systemspecialis | Verified Buyer
Customer Rated
Jul 29, 2014
systemspecialis | Verified Buyer
Customer Rated
Jul 29, 2014
systemspecialis | Verified Buyer
Customer Rated
Jul 29, 2014
vettster | Verified Buyer
Customer Rated
Dec 22, 2013
Dave | Verified Buyer
Customer Rated
Nov 08, 2013
Andrew | Verified Buyer
Customer Rated
May 19, 2013