TURNIGY 540W Dual Output Switching Power Supply (US Plug)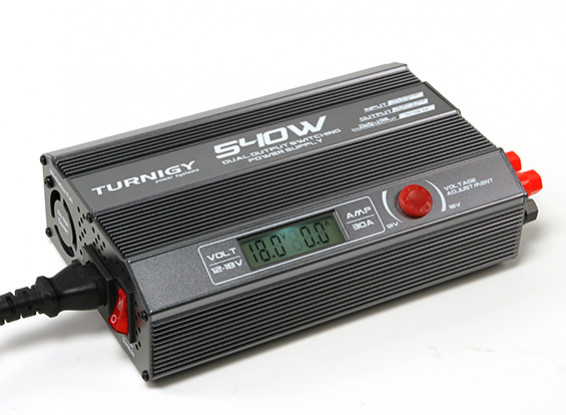 TURNIGY 540W Dual Output Switching Power Supply (US Plug)
WANT FREE SHIPPING?
Click
here
to find out more!
Report Issue
Not Cheapest?
Copy and Share the Below URL
TURNIGY 540W Dual Output Switching Power Supply (US Plug)
L'alimentation TURNIGY 540W peut alimenter deux chargeurs séparés. Non seulement que vous pouvez également charger votre MP3, téléphone portable et appareil photo numérique en utilisant deux ports USB qui le rend très polyvalent. L'alimentation TURNIGY 540W est également livré avec des fonctionnalités de sécurité telles que protection contre les surintensités et sur la protection de la température ainsi que de court-circuit.
Le grand écran LCD indique le courant de sortie et la tension de sorte que vous pouvez facilement voir la puissance que vous utilisez.
Caractéristiques:
• Deux sorties en courant continu, jusqu'à 30 ampères
• Tension de sortie 12-18V réglable
• Grand écran LCD indique la sortie de tension et de courant
• Deux ports USB, 5V, 1000mA total MP3, téléphone portable et appareil photo numérique changer
• ventilateurs intelligents de refroidissement double
• Protection contre la surchauffe
• Protection de chargement
• Protection de court circuit
Spécifications:
Tension d'entrée: 100 ~ 240V AC
Tension de sortie: 12v ~ 18v DC + -0,5 V
Courant de sortie: 30A + -1A
Sortie Watts: 540W
Refroidissement: Deux ventilateurs de refroidissement
Dimensions: 218 x 139 x 59.5mm (taille de cas)
Poids: 1,62 kg
muy buena fuente la uso con un cargador de 4 salidas y llega perfectamente a los 30 amp. la regulacion de voltage funciona perfectamente y la terminacion es muy buena. estoy mas que contento con la compra. aclaro que el cargador es de 400w y aparte le sumo uno de una salida mas y no tiene ningun problema. Lo recomiendo

very good source I use a charger 4 outputs and perfectly reaches 30 amp. the regulation of voltage works perfectly and completion is very good. I am more than happy with the purchase. I clarify that the charger is 400w and other I add one more output and has no problem. I recommend it
muy buena fuente la uso con un cargador de 4 salidas y llega perfectamente a los 30 amp. la regulacion de voltage funciona perfectamente y la terminacion es muy buena. estoy mas que contento con la compra. aclaro que el cargador es de 400w y aparte le sumo uno de una salida mas y no tiene ningun problema. Lo recomiendo

very good source I use a charger 4 outputs and perfectly reaches 30 amp. the regulation of voltage works perfectly and completion is very good. I am more than happy with the purchase. I clarify that the charger is 400w and other I add one more output and has no problem. I recommend it