Turnigy GT5 6CH 2.4GHz AFHDS 2A Surface Radio w/GT5 Receiver (Gyro)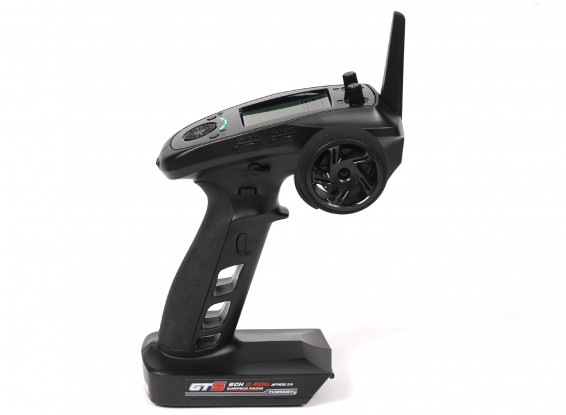 Turnigy GT5 6CH 2.4GHz AFHDS 2A Surface Radio w/GT5 Receiver (Gyro)
Livraison gratuite?
Cliquez
ici
pour apprendre plus!
Signaler un problème
Pas cher?
The Turnigy GT5 Surface Radio comes with the ever reliable 6 channel 2.4GHz AFHDS 2A (Automatic Frequency Hopping Digital System) to provide the most reliable link between radio and RC Car or RC Boat. Included in this package is the Turnigy GT5 Receiver with built-in Gyro for awesome drift control. The ergonomic design fits easily in your hand.
The GT5 transmitter comes with an LCD screen and an easy to use menu system making setup a breeze. There is a twenty-model memory to make it painless to swap between different cars and/or boats. There is even a crawling mode for all-wheel steering, so you can turn just the front wheels, just the rear wheels, the front and rear wheels in unison (crab mode) or the front and rear wheels in opposite directions for extremely tight turning circles.
The drift function, called SVC in the radio, allows you to operate the car with a gyro assisting the steering servo, this aids in counter steering by smoothing out the movement of the steering servo, it makes holding a long drift extremely easy. It can also be used to settle down the steering in 2WD rear wheel cars such as F1 racing cars or rear wheel tourers.
Being a high function radio the GT5 also includes servo reverse, end point adjustment (EPA), sub-trim, dual rates (D/R), exponential (EXP), anti-lock braking (ABS) and a fail safe function, which are pretty much all the functions you will ever need.
Each transmitter and receiver pair have their own unique ID to prevent other RC systems from accidentally connecting to or interfering with the GT5. The transmitter hops between 16 channels in order to reduce interference from other transmitters. Other AFHDS 2A receivers can also be used with this transmitter. The Turnigy GT5 system is the complete package at the most affordable price.
With 20 model memory, crawling mode, SVC mode and the extra functions you expect from a modern radio, the GT5 is all the radio you will ever need for all your surface models.
Features:
• Designed by model enthusiasts
• Ideal budget radio
• Ergonomic design
• Low power consumption
• AFHDS 2A RF protocol
• 6 channel 2.4GHz radio with telemetry capability
• 20 Model Memory
• Backlit LCD Screen
• Crawling mode (all-wheel steering)
• GT5 Receiver with built-in gyro
Transmitter Specs (GT5):
Model Type: Car, Boat
Model memory: 20
Channels: 6
RF Range: 2.408-2.475GHz
Bandwidth: 500KHz
Bands: 135
RF Power: < 20dBm
Receiving Sensitivity: -95dBm
2.4GHz Protocol: AFHDS 2A
Modulation Type: GFSK
Transfer Method: FHSS
Channel Resolution: 4096 steps
Channel Delay: <15ms
Low voltage alarm: AA batteries <4.4V, 2S lithium battery <7.4V
Data Output: None
Charging port: None
Antenna: 26mm
Input power: None
Display: NTN semi-permeable, segment screen, VA52.5 x 34mm LCD white backlight
Online Update: N/A
Range (No ground interference): > 200m
Working current: 100~120mA
Channel Data Parameters: Median: 1500us, Range: 900~2100us
Weight: 296g
Certification: CE, FCC ID: N4ZGT500
Receiver Specs (GT5 receiver):
Channels: 6
RF Range: 2.408-2.475 GHz
RF Channel: 135
RX sensitivity: -92dBm
2.4GHz system: AFHDS 2A
Modulation type: GFSK
Data output: PWM
Power input: 4.0 ~ 8.4 VDC
Weight: 7.65g
Size: 29 x 22 x 16mm
Certificate: CE, FCC ID: N4ZBS600


****Note: This radio does not perform with the HobbyKing™ GT2E 2.4Ghz Receiver 3Ch***
Included:
1 x Turnigy GT5 Transmitter
1 x Turnigy GT5 Receiver
1 x Manual
1 x Bind plug
1 x Spare grip
Required:
4 x "AA" Batteries
Turnigy GT5 6CH 2.4GHz Surface Radio - HobbyKing Super Daily
kevin | Acheteur vérifié
Incredible radio for an incredible price
Jun 05, 2019
Ciprian | Acheteur vérifié
Receiver and water :D
Jun 16, 2018
Kiss | Acheteur vérifié
Turnigy Receiver
Jun 04, 2018
Harry | Acheteur vérifié
Awesome. But...
May 31, 2018
RC-Junky | Acheteur vérifié
Not binding with recommended RX
May 13, 2018
Steven | Acheteur vérifié
Kaybo | Acheteur vérifié
Awesome Radio
May 01, 2018
Snickers | Acheteur vérifié
Téléverser un fichier
Inscrivez-vous pour télécharger des fichiers.
S'il vous plaît se connecter ou s'inscrire pour commencer à aider les amateurs maintenant!