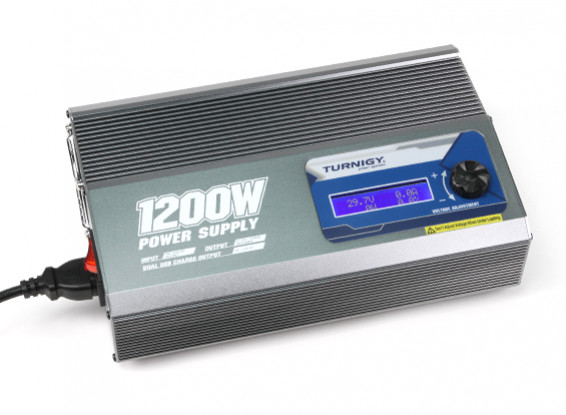 1200W PSU (spina)
Spedizione gratuita?
Clicca
qui
per saperne di più!
Segnala problema
Non economico?
Are you looking for serious power for heavy duty charging?
The Turnigy 1200W power supply features four outputs (1x50A, 3x10A) and is suitable for powering 4 chargers up to 1200W (combined). This supply also features over current, over temperature and short circuit protection.
This unit is ideal for running multiple chargers without the need for having separate power supplies. It is also perfect for powering high wattage chargers that require high voltage input (24VDC+) to charge at high rates or parallel charge multiple batteries.

Features:
• Active PFC: smaller AC input current less interference and conforms to CE Regulations
• One main DC power output, up to 50 amps, three outputs up to 10 amps each with on/off switch
• Output voltage adjustable 15-30V
• LCD indicates voltage and current amps output
• AC 100-240V worldwide operation
• Two USB ports, 5 volts, 2100mA total for ip[ad, mobile phone, digital camera etc
• Smart cooling fan thermostatically controlled
• Over current, over voltage, over load and over temperature protection
• Short circuit protection on output.
Specs:
Input Voltage: 100~240V AC
Output Voltage: 15-30V DC
Output Amps: 50A
Output Watts: 1200W
Current Overload Protection: <=51A 500ms
Input Fuse: 20A Fuse
LCD Display: Voltage Precision +/- 0.3V
Output Voltage Ripple: <300mV
Power Efficiency: 89%
Over Temperature Protection: <65°C
Cooling Method: Inbuilt Fan
Operating Temperature: 0 - 40°C
Dimensions: 305 x 170 x 85mm
Weight: 3.08Kg
Turnigy 1200W 50A Power Supply Unit
Mark | Acquirente verificato
1200w 30v 50A woohoo
Oct 12, 2020
Paul | Acquirente verificato
Max | Acquirente verificato
Bear 2 | Acquirente verificato
Power supply user comments
Jun 20, 2019
Lex | Acquirente verificato
Owen | Acquirente verificato
Caricare un file
Registrati per caricare i file.
Per favore accedi o registrati per iniziare subito ad aiutare gli hobbisti!