OrangeRx 2.4Ghz DD16n Nano D16US/EU FrSky Diversity SBus Receiver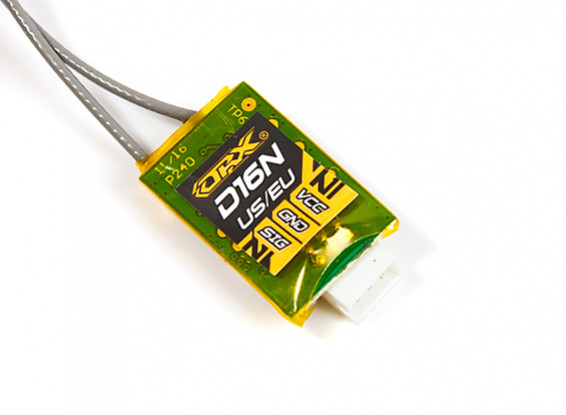 OrangeRx 2.4Ghz DD16n Nano D16US/EU FrSky Diversity SBus Receiver
Spedizione gratuita?
Clicca
qui
per saperne di più!
Segnala problema
Non economico?
This receiver was specifically designed by OrangeRx with the FPV racer in mind. Although it is small and ultra-lightweight it has true diversity technology which is especially important for FPV racing. These racing conditions are far from ideal, low altitude, lots of obstacles, motors, and video transmissions in close quarters, situations where you need a robust reception.
This little receiver shrugs all this off to give you a good solid performance. It has been thoroughly tested in real flight tests and racing conditions many times by the manufacturer and a line of sight range of up to 750 meters has been achieved. This receiver is also ideal for use in airframes where there is a lot of carbon where the antenna can be in the shadow of the airframe. This receiver features the D16US/EU FrSky protocol which is auto-detect and 16 channel SBus technology.
The DD16n has been tested and is compatible with these transmitters: FrSky Taranis X9D, X9D Plus, and Horus X12S. It is also compatible with the following: F1, F3, F4 flight controllers using Baseflight, Cleanflight, Betaflight, and Raceflight. Plus it is compatible with the KK2, MultiWii, and APM version 2 upwards.

Features:
• D16US/EU FrSky protocol (auto-detect)
• 16 channels
• Wide working voltage (3.5~9.8V)
• Tiny dimensions (22x12.5x5mm)
• Ultra-lightweight (just 1.5g without wires)
• Fail-safe
• Output protocol SBus

Specs:
Type: OrangeRx DD16n Nano D16US/EU FrSky Diversity SBus Receiver
Protocol: D16US/EU FrSky
Frequency: 2.4Ghz
Modulation: GFSK
Sensitivity: Up to -98dBm
No of Channels: 16
Input Voltage: 3.5~9.8V
Binding: Auto bind
Fail-Safe: Yes
Output Protocol: SBus, IBus, CPPM
Telemetry: RSSI
Flybarless Controls: V-Bar and IKON compatible
Dimensions: 22x12.5x5mm
Antenna Length: 145mm
Weight: 1.5g without wires
Compatibility: FrSky Taranis X9D, X9D Plus, Horus X12S

Please note: A copy of the instruction leaflet is available under the "Files" tab.
Algis | Acquirente verificato
viskas gerai
Dec 29, 2021
Don't know | Acquirente verificato
Don't know yet
Jul 01, 2021
visioneer_one | Acquirente verificato
ACCST V1 only, can't bind to MPM...
May 27, 2021
daniel | Acquirente verificato
Ridiculous 100m range
May 11, 2021
Henrik | Acquirente verificato
Carlf | Acquirente verificato
Doesn't bind with x9d
Aug 10, 2020
Raymond | Acquirente verificato
Great flexible receiver good for aircraft as well
Jul 28, 2019
Caricare un file
Registrati per caricare i file.
Per favore accedi o registrati per iniziare subito ad aiutare gli hobbisti!