TURNIGY 540W doppia uscita Switching Power Supply (US Plug)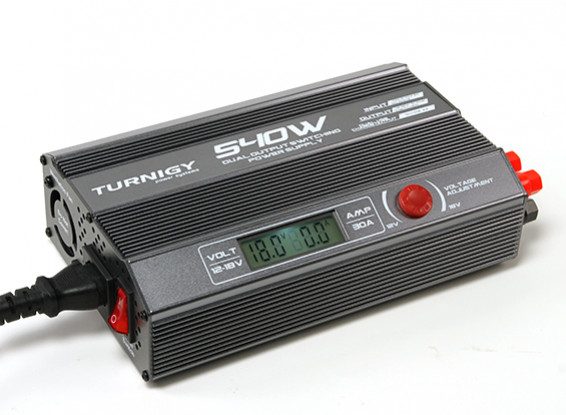 TURNIGY 540W doppia uscita Switching Power Supply (US Plug)
WANT FREE SHIPPING?
Click
here
to find out more!
Report Issue
Not Cheapest?
Copy and Share the Below URL
TURNIGY 540W doppia uscita Switching Power Supply (US Plug)
L'alimentatore TURNIGY 540W può alimentare due caricatori separati. Non solo si può anche ricaricare il vostro MP3, telefono cellulare e fotocamera digitale che utilizza due porte USB che lo rende molto versatile. L'alimentazione TURNIGY 540W viene fornito con grandi caratteristiche di sicurezza come protezione contro circuito e sopra protezione di temperatura, così come brevi.
Il pannello LCD di grandi dimensioni indica la corrente di uscita e la tensione in modo da poter facilmente vedere il potere che si sta utilizzando.
Caratteristiche:
• Due uscite DC, fino a 30 ampere
• tensione di uscita regolabile 12-18V
• Ampio display LCD indica la tensione e la corrente di uscita
• Due porte USB, 5V, 1000mA totale per MP3, telefono cellulare e la macchina fotografica digitale che cambia
• ventole intelligenti dual raffreddamento
• Protezione da sovratemperatura
• Protezione da carico
• Protezione da corto circuito
Specifiche:
Tensione in ingresso: 100 ~ 240V AC
Tensione di uscita: 12V ~ 18V DC + -0.5V
Uscita Amps: 30A + -1A
Uscita Watt: 540W
Raffreddamento: ventole di raffreddamento a doppio
Dimensioni: 218 x 139 x 59,5 millimetri (dimensioni caso)
Peso: 1.62kg
muy buena fuente la uso con un cargador de 4 salidas y llega perfectamente a los 30 amp. la regulacion de voltage funciona perfectamente y la terminacion es muy buena. estoy mas que contento con la compra. aclaro que el cargador es de 400w y aparte le sumo uno de una salida mas y no tiene ningun problema. Lo recomiendo

very good source I use a charger 4 outputs and perfectly reaches 30 amp. the regulation of voltage works perfectly and completion is very good. I am more than happy with the purchase. I clarify that the charger is 400w and other I add one more output and has no problem. I recommend it
muy buena fuente la uso con un cargador de 4 salidas y llega perfectamente a los 30 amp. la regulacion de voltage funciona perfectamente y la terminacion es muy buena. estoy mas que contento con la compra. aclaro que el cargador es de 400w y aparte le sumo uno de una salida mas y no tiene ningun problema. Lo recomiendo

very good source I use a charger 4 outputs and perfectly reaches 30 amp. the regulation of voltage works perfectly and completion is very good. I am more than happy with the purchase. I clarify that the charger is 400w and other I add one more output and has no problem. I recommend it