I6S AFHDS 2A Nero radio Modalità 1 6CH con scatola di colore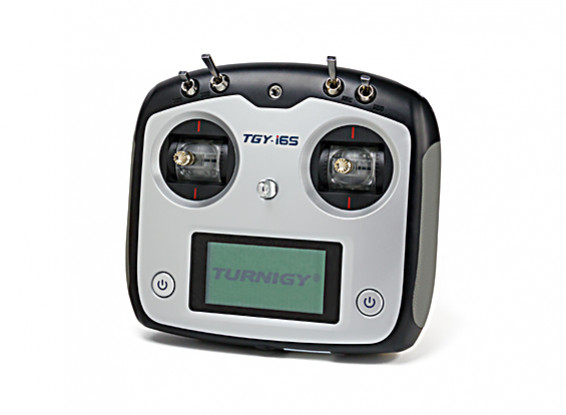 I6S AFHDS 2A Nero radio Modalità 1 6CH con scatola di colore
Spedizione gratuita?
Clicca
qui
per saperne di più!
Segnala problema
Non economico?
As the old saying goes, the best just got better. This is definitely the case with the Turnigy TGY-i6S as it builds on the already great Turnigy-i6. The TGY-i6S still uses the solid and reliable 2.4GHz Automatic Frequency Hopping Digital System (AFHDS) spread spectrum technology. It is also a superb budget radio for both new and experienced pilots and is designed with multi-rotor / drone flying in mind. It can also be used for planes / gliders.
The Turnigy TGY-i6S is a 6 channel (PWM) or a 10 channel (PPM) 2.4GHz AFHDS Digital Proportional RC system and comes complete with two receivers, the dependable TGY-iA6B 6 channel receiver and the new TGY-iA6C receiver for PPM or SBUS.
The new look design comes with some exciting new features. This radio incorporates a monochrome backlit LCD touchscreen making it easy to program and make changes in sunlight or at night. There are two internal dual omnidirectional high gain antennas (for more reliability) built inside the frame so they can't be damaged in transit. To help control your aircraft there are lots of programmable switches, buttons and scroll wheels. Making them great for setting up flight modes and the scroll wheels could be used for controlling camera gimbals.
The ergonomically designed case makes for easy use of all controls. All switches and scroll wheels are in easy reach and the adjustable length sticks can be set for comfortable use. There is a loop for attaching a neck strap and a phone/monitor holder mounting point. There is even a mini USB port for easy connection to your PC for updates or for connecting (via USB) to your favorite simulator programs.
Each transmitter and receiver has its own unique ID. Once the transmitter and receiver have been paired, they will only communicate with each other, preventing other systems accidentally connecting to or interfering with the system's operation. Each transmitter hops between 16 channels in order to reduce interference from other transmitters.
The TGY-i6S comes in either Mode 1 and Mode 2 and is available in black or white for each mode.
With all the features the TGY-i6S offers it is one of the best radios available, dollar for dollar.
Features:
• Entry level 6 channel 2.4ghz radio with telemetry capability
• i10 style customized Gimbals with dual bearing supports
• Softer grips for long use times
• 2 and 3 position switches, momentary switches and self-centering proportional wheel switches (2 of each)
• Easy to use touch screen to setup and program the radio
• SBUS and IBUS/PPM support (2 receivers included)
• 5 Model Memory
• Auto trim functions for planes and gliders
• USB and Trainer ports
• Backlit LCD Screen displays real-time transmitter and receiver voltage
• 4 Stick Mode Selection
• Mode 1 and 2 without sprung center stick
• Digital flip flop "Quick Touch" buttons on the back
• Optional telemetry receivers and sensors available separately
• Future firmware updates (Long range firmware)
Turnigy TGY-i6S Transmitter Specs:
Channels: 10 (PPM) or 6 (PWM)
RF range: 2.408 ~ 2.475 GHz
Bandwidth: 500 KHz
RF channel: 135
RF power: Less than 20 dBm
2.4GHz system: AFHDS 2A
Modulation type: GFSK
Stick resolution: 4096
Low voltage alarm: Yes (lower than 4.2V)
DSC port: Micro USB /PPM
Power input: 4.2V - 6.0V
Antenna length: 26mm x 2
Size (Length x Width x Height): 179 x 81 x 161mm
Weight: 410g
Certificate: CE0678, FCC ID:N4ZI6S00, RCM
Turnigy TGY-iA6B Receiver Specs:
Channels: 6
RF range: 2.408 ~ 2.475 GHz
RF channel: 135
RX sensitivity: -105dBm
2.4GHz system: AFHDS 2A
Modulation type: GFSK
Power input: 4.0V - 6.5 V DC
Antenna length: 26mm x 2
Size (Length x Width x Height): 47 x 26.2 x 15 mm
Weight: 14.9 g
Certificate: CE0678, FCC, RCM
i-Bus port: Yes
Data acquisition port: Yes
Requires:
4 x AA Type Batteries
Includes:
1 x TGY-i6S
1 x TGY-iA6B Receiver
1 x TGY-iA6C Receiver
1 x Micro USB Cable
Turnigy TGY-i6S Digital Radio Control System

i6s Voltage Telemetry
Hava | Acquirente verificato
Very good radio
Jan 19, 2023
Stu | Acquirente verificato
Stu | Acquirente verificato
Andrew | Acquirente verificato
Great form factor, perfect for sims, disappointing for fixed wing aircraft
Sep 28, 2021
Learner | Acquirente verificato
Satisfactory
Jan 27, 2021
nicky | Acquirente verificato
rob | Acquirente verificato
great porduct
Jan 15, 2020
Zoltan | Acquirente verificato
very good and excellent quality
May 07, 2019
Nikolay | Acquirente verificato
i6s telemetry
Nov 12, 2016
Nikolay | Acquirente verificato
i6s telemetry
Nov 12, 2016
Caricare un file
Registrati per caricare i file.
Per favore accedi o registrati per iniziare subito ad aiutare gli hobbisti!