Blaze DFR 1/10 Scale Drift Chassis with Unpainted Body shell (Red)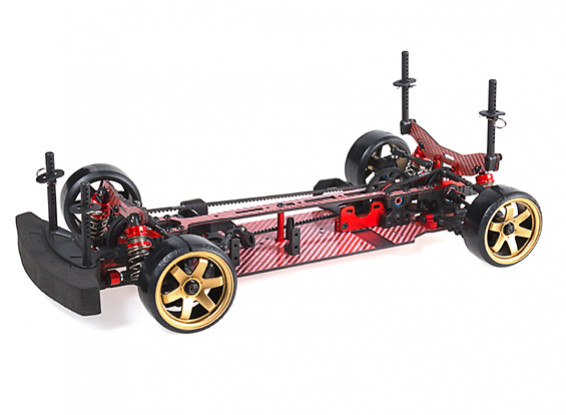 Blaze DFR 1/10 Scale Drift Chassis with Unpainted Body shell (Red)
Geen verzendkosten?
Klik
hier
meer leren!
Meld een probleem
Niet goedkoop?
The Blaze DFR 1/10th Drift car is an all carbon fiber constructed competition ready, drift roller chassis with a host of features you would expect to find on a big name brand such as carbon fiber shock towers, a rear gear diff, low profile high precision ball joints, fully ball raced steering mechanism, CNC machined T6 drive shafts, aluminum shock absorbers and 2.5mm thick red colored carbon fiber main chassis plate and upper deck. The red colored carbon fiber chassis and upper deck adds a little bling to the overall look of the DFR.
The geometry on the DFR is designed for top-level on-road drift racing and includes adjustable ride height and droop, camber, toe and roll centers, steering throw and Ackerman as standard out of the box with a huge range of option parts available to set the rear toe, chassis stiffness and body roll. The DFR drift car is designed to let the rear go, all you have to do is have the skills to keep it on course...sideways.
It's the attention to detail that stands this car apart from others in its class, from the chassis cut out to allow the motor to be mounted as close to the ground as possible, to the CVD's front and rear to the extra-long body mounting arms on the rear that help keep the body as rigid as possible this is an all-around race-bred kit.
The chassis arrives pre-assembled so select your own electronics package and pinion, paint your bodyshell and you're ready to race. Eventually, you will want to start fine tuning your chassis with SHOCK OILS and SET UP & TUNING EQUIPMENT, we've got you covered and at prices that can't be beaten.
The Blaze is based on the same chassis as the ever popular RZ4 which means that many of the parts are interchangeable, there are aluminum spares and upgrades available that are unique to the Blaze but most of the plastic suspension parts are identical to the RZ4.
Features:
• Pre-assembled colored carbon fiber drift car rolling chassis
• Coloured carbon fiber double deck structure
• Aluminum adjustable oil filled shocks
• Adjustable ride height and droop, camber, toe and roll centers
• Fully ball raced steering system
• Oil filled rear gear diff
• Pre-glued 60.6 x 26mm hard slick tires and 6 spoke wheels
• Belt drive 4WD layout
• High Tensile steel Hex screws throughout
• GTR Style unpainted body shell included


Specs:
Wheelbase: 260-265mm
Width: 190
Internal Gear Ratio: 2.1
Spur Gear: 84T
Required:
Sensored / Sensorless ESC +/- 80amp
Standard size high torque Servo
540 Size brushless sensored / sensorless motor
2 Channel radio system
7.4v standard sized hardcase LiPoly battery pack
Blaze R2 Touring Car and DFR Drift Car - HobbyKing Super Daily

Blaze DFR - body and firstrun

Blaze DFR - Mustang Body and ESS Dual Plus Soundmodul
Onderwerpen
Sorteer op
Meest recente onderwerpen
Mr Livre | Geverifieerde koper
Great drift car
Apr 14, 2022
Christian | Geverifieerde koper
Thor | Geverifieerde koper
Excellent chassis
Nov 10, 2021
Christian | Geverifieerde koper
Good chassis bad decals
Nov 07, 2021
Charlie6969 | Geverifieerde koper
Does the job that I wanted it to do.
May 19, 2021
Wolfgang | Geverifieerde koper
RcNayf | Geverifieerde koper
Can't really beat price against product
Jan 10, 2021
David | Geverifieerde koper
Excellent modele
Nov 29, 2020
Snuffel | Geverifieerde koper
Leuk speelgoed
Nov 04, 2020
Andri | Geverifieerde koper
Nice drift chassis
Apr 25, 2020
Upload bestand
Registreer om bestanden te uploaden.
Alstublieft aanmelden of registreren om nu hobbyisten te helpen!