LDPOWER M4114-320KV borstelloze Multicopter Motor (CW)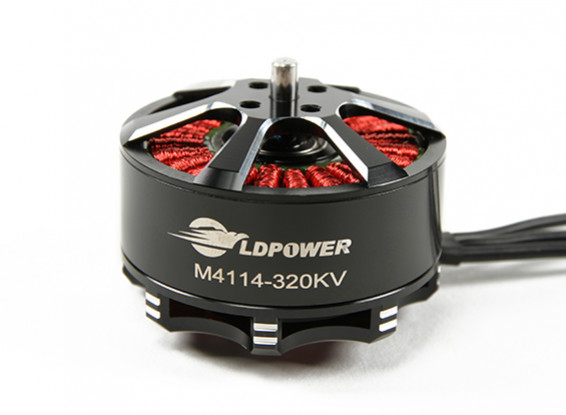 LDPOWER M4114-320KV borstelloze Multicopter Motor (CW)
WANT FREE SHIPPING?
Click
here
to find out more!
Report Issue
Not Cheapest?
Copy and Share the Below URL
LDPOWER M4114-320KV borstelloze Multicopter Motor (CW)
Innovators in multicopter technologie, LDPOWER, hebben hun langverwachte serie premium multicopter motoren vrijgegeven. Deze zijn streng getest om uitstekende prestaties, betrouwbaarheid en duurzaamheid te garanderen.
Deze motoren zijn eenvoudig te installeren, zeer efficiënt en geen lawaai.
LDPOWER motoren zijn premium kwaliteit en zal zeker antwoord geven op de noodzaak van ernstige bouwers en flyers van quads / multi's overal.
specs:
KV (RPM / V): 320KV
LiPoly cellen: 14.8V-22.2V (4S-6S)
Max Power: 999W
Max Amps: 45A
Afmetingen (Dia.xL): 47 x 37.8mm
Motor As: 4mm
Schroefas: 6mm
Gewicht: 154g
Bolt gat spacing: 25mm-M3, 19mm-M3
Connectors: 3,5 mm kogel
Volts Prop Throttle Amps Watts RPM Thrust (g)
14,8 21 * 12 15% 1,0 14,8 998 238
14.8 21 * 12 40% 5,2 76,96 1867 874
14.8 21 * 12 50% 7.3 108,04 2105 117
14,8 21 * 12 80% 23,6 349,28 3169 2541
14.8 21 * 12 100% 34.9 516,52 3575 3313
22.2 14 * 7 15% 0.4 8.88 1.557 90
22.2 14 * 7 40% 1,9 42,18 3020 385
22.2 14 * 7 50% 2,8 62,16 3520 528
22.2 14 * 7 70% 4,4 97,68 4116 748
22.2 14 * 7 100% 13,5 299,7 6009 1695
22.2 15 * 5 15% 0.4 8.88 1.474 120
22.2 15 * 5 40% 2.0 44.4 2846 456
22,2 15 * 5 50% 3,2 71,04 3398 651
22.2 15 * 5 80% 10,5 233,1 5168 1564
22.2 15 * 5 van 100% 15,5 344,1 5839 2019
22,2 21 * 12 15% 1,7 37,74 1376 460
22,2 21 * 12 40% 2,4 53,28 2433 1470
22.2 21 * 12 50% 3,8 84,36 2978 2201
22,2 21 * 12 80% 42,6 945,72 4301 4740
22.2 21 * 12 100% 60,9 1.351,98 4738 5850
Kan Lengte D ( mm )

15.00

Totale lengte E ( mm )

38.00