T-72M1 Battle RC Tank RTR w / Tx / Sound / Infrared (Desert)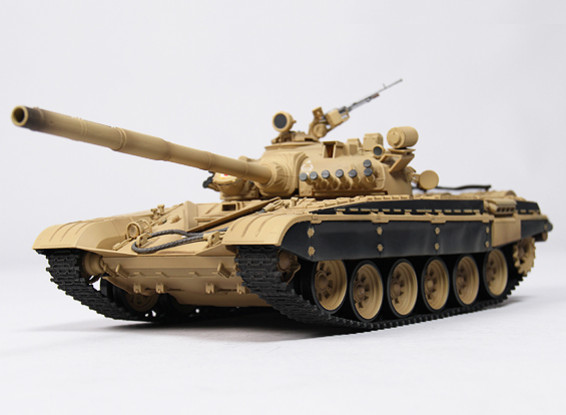 T-72M1 Battle RC Tank RTR w / Tx / Sound / Infrared (Desert)
WANT FREE SHIPPING?
Click
here
to find out more!
Report Issue
Not Cheapest?
Copy and Share the Below URL
De T-72 tank in productie in 1970 en was misschien wel een van de Sovjets meest succesvolle technische realisatie van het tijdperk. De T-72 was de meest gebruikte tank door het Warschaupact uit de jaren 1970 tot de ineenstorting van de Sovjet-Unie. Zelfs vandaag de dag, de T-72 vormt nog steeds het grootste deel van het voormalige Warschau landen tank kracht waaronder Rusland. De T-72 is een van de meest geproduceerde, uitgevoerde en gekopieerd na de Tweede Wereldoorlog tanks, de tweede alleen voor de T-54/55. De productie van de T-72 overschreden 25.000 eenheden en het chassis / basisontwerp diende als basis voor veel van de procedure generaties van tanks.
De T-72 was zeer lichtgewicht en zeer klein in vergelijking met West-gevechtstanks van dezelfde generatie. Hij is uitgerust met een 125mm gladde kanonnen die in staat afvuren anti-tank geleide raketten en een autoloader, het verkleinen van de tank door de noodzaak van een extra lader bemanning. De T-72 is ontworpen als een massaproductie tank, met een beroep op de mobiliteit, voldoende vuurkracht en nog belangrijker nummers.
Dit prachtige 24/01 schaal Battle tank is voorzien van proportionele RC controle en is uitgerust met een infrarood kanon waarmee je de strijd met de andere tanks in het assortiment, het model heeft een levensduur telsysteem dat de tank na een bepaald aantal hits zal uitschakelen, het model zal ook klappen te registreren in termen van fysieke beweging en heeft een terugslag actie wanneer het kanon wordt afgevuurd, kan de geschutskoepel 330 graden worden gedraaid en het pistool verhoogde 30 graden voor die totaal schaal effect. In aanvulling hierop heeft de T-72M1 een ingebouwde sound module met motor, kanonnen en machinegeweer klinkt!
Deze tank heeft veel kracht om tot obstakels, reizen op steile hellingen en gemakkelijk aan te pakken ruw terrein. De nummers draaien op individueel springen wielen en herstelbaar rubber spoor net als de echte tank. Het is moeilijk, heel schaal en een enorme hoeveelheid plezier, vooral als je een buddy om te vechten met!
Spec.
Type: T-72M1 Battle Tank (Desert)
Firing mechanisme: Infrared
Gewicht: 930g
Snelheid: 3 vooruit en 2 versnellingen achteruit
Lengte: 300mm
Breedte: 150mm
Lengte: 100mm
Inbegrepen.
T-72M1 Battle Tank (Desert)
Radio Controller
instructies
Accessoires
vereist:
14 x AA batterij
i really enjoyed that hobbyking now provide us with new modern rc tank.. i saw japan tank as a new list.. and i definetly will buy it.. but one more that hobbyking should stock.. its german leopard 2 main battle tank.. one most outrogeous tank :D. please hoobyking.. hurry up and add the leopard 2 on your new rc tank list..

This tanks had good looking for playing or just put on the desk.. its very good looking... you wont regret it.. :D
i really enjoyed that hobbyking now provide us with new modern rc tank.. i saw japan tank as a new list.. and i definetly will buy it.. but one more that hobbyking should stock.. its german leopard 2 main battle tank.. one most outrogeous tank :D. please hoobyking.. hurry up and add the leopard 2 on your new rc tank list..

This tanks had good looking for playing or just put on the desk.. its very good looking... you wont regret it.. :D
These are great range of Tanks, I personally own several (which I purchased my local hobby shop @ more than Double what HK are selling for... Now that HK stock them I WILL PURCHASE here) The detail on these tanks are second to none, easy to use and are fun, Hopefully HK will stock the whole range Tiger's, Kingtiger, etc and also the upgrades like metal tracks and metal hand painted Figures....when 2 or more tanks are used, u can battle each other using the infrared system, but it isnt as simple as aim fire main gun or machine gun... each tank can fire its main gun 20 times (this simulates limitations on ammo storage) after that you have to hit the enemy tank using machine gun (machine guns do lil Dmg and u have to hit enemy tank 20 times with that weapon) A tank can take 5 hits from a enemies main gun (20 from machine gun) then it lights up, rocks and stops dead (shuts down, its now out of the game) everytime a tank is hit it will stop, then move again until its next hit or killed... the sound system is nice n loud and sounds fantastic,again I cant say enough about the detail on these tanks they are fantastic, even to buy one as a display model is well worth it
These are great range of Tanks, I personally own several (which I purchased my local hobby shop @ more than Double what HK are selling for... Now that HK stock them I WILL PURCHASE here) The detail on these tanks are second to none, easy to use and are fun, Hopefully HK will stock the whole range Tiger's, Kingtiger, etc and also the upgrades like metal tracks and metal hand painted Figures....when 2 or more tanks are used, u can battle each other using the infrared system, but it isnt as simple as aim fire main gun or machine gun... each tank can fire its main gun 20 times (this simulates limitations on ammo storage) after that you have to hit the enemy tank using machine gun (machine guns do lil Dmg and u have to hit enemy tank 20 times with that weapon) A tank can take 5 hits from a enemies main gun (20 from machine gun) then it lights up, rocks and stops dead (shuts down, its now out of the game) everytime a tank is hit it will stop, then move again until its next hit or killed... the sound system is nice n loud and sounds fantastic,again I cant say enough about the detail on these tanks they are fantastic, even to buy one as a display model is well worth it