H-King (PNF) Voltigeur MkII 3D EPO Aerobatic Plane w/Carbon Fiber Landing Gear 1220mm (48")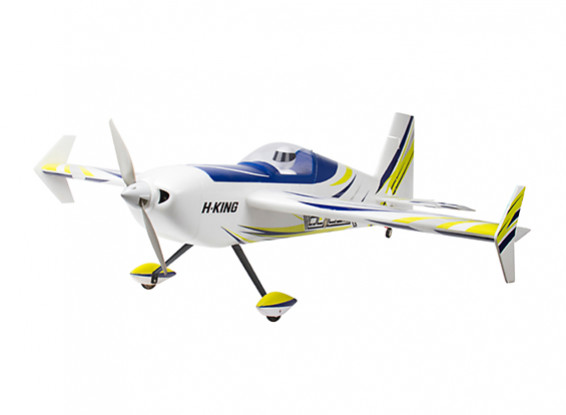 H-King (PNF) Voltigeur MkII 3D EPO Aerobatic Plane w/Carbon Fiber Landing Gear 1220mm (48")
Envio Grátis?
Clique
aqui
aprender mais!
Reportar problema
Não é barato?
The Voltigeur is a well-known performer and we've just taken it to the next level. Flying the Voltigeur is a dream, using the recommended 3S Lipo battery for aerobatics and sports flying it handles like a trainer, docile, and extremely predictable. Everything from rolling circles, waterfalls, inverted harriers, and blenders, nothing will stop the Voltigeur.
We have improved the drive train to provide even more power (1900g thrust), better efficiency, and cooler running with a 5% lower temperature). To help with the extremes of 3D flying the servo arms have been beefed up and the landing gear has been improved with carbon fiber legs. No more applying stickers as they are factory-fitted too. There is even a bigger, better ESC access hole for more airflow.

Want even more power? Then fit a 4S battery. You will notice straight away the extra speed and power, you'll be able to use that extra power and quicker throttle response during your maneuvers. This added power will make your pop tops, rifle rolls, and all the extreme 3D moves that much more aggressive, ideal for experienced 3D pilots.

The Voltigeur is a true aerobatic performer and an extreme 3D flying machine. Construction is from lightweight EPO foam and features large control surfaces coupled with masses of power. Perfectly balanced with a mid-mounted full symmetrical wing, large battery compartment, composite glass fiber wing tube, metal gear high-speed servos all around, and all electronics pre-installed. Orientation is not a problem with the highly visible and unique color scheme.

Features:
• EPO foam lightweight construction
• Large control surfaces for extreme 3D flying
• New powerful motor for 1900g of thrust on 3S 11.1V (34A), 13x6.5, 9% increase
• High-speed metal gear servos
• Ball link control horns
• Better servo horns to handle all the 3D stress
• Large easy to access battery hatch
• Composite glass fiber wing tube
• Carbon Fiber undercarriage with lightweight wheels
• High strength nylon wing bolts
• Highly visible and unique combination decals (factory fitted)
• Scale pilot figure

Specs:
Wingspan: 1220mm (48")
Length: 1280mm (50")
Take off Weight: 1500g (approx)
Motor: 3720 880KV Brushless outrunner
ESC: 45A w/ 3A BEC
Prop: 13x4

Requires:
1 x Minimum 4-6 channel transmitter and receiver
1 x 3~4S LiPo battery 2200~2600mAh 45-65c
1 x Licence to thrill
H-King Voltigeur MkII 3d EPO Aerobatic Plane - HobbyKing Daily

Michael Wargo Flies the H-King Voltigeur 3D EPO Aerobatic Plane 1220mm (48") (PNF)

H King Voltigeur - Product Profile - HobbyKing Live

Voltigeur H-King MkII 3D EPO Aerobatic Plane 1220mm 1000kv 3S

Voltigeur + Action cam 360°
Nate | Comprador Verificado
Everyone of these I bought from hobbyking the prop adapter has broken off during assembly
Sep 01, 2021
Tboy | Comprador Verificado
Difficult build, flies so-so
Aug 27, 2021
SLP | Comprador Verificado
Very frustrating build.
Aug 20, 2021
Cody | Comprador Verificado
Good Airframe, Poor Electronics
Jul 05, 2021
Lincoln | Comprador Verificado
Incredible plane for the price!
Jun 21, 2021
mihaiscot | Comprador Verificado
H-KING VOLTIGEUR MKII 3D EPO AEROBATIC PLANE 1220MM
Jun 20, 2021
CJB | Comprador Verificado
VOLTIGEUR MKII 3D EPO AEROBATIC PLANE
Jun 19, 2021
Mile d | Comprador Verificado
Need to get rid of crap speed controller
Jun 11, 2021
esc est trop faible | Comprador Verificado
les servos sont trop faibles.
Jun 10, 2021
Skywalker | Comprador Verificado
Overall good value for money
Jun 10, 2021
Subir arquivo
Registre-se para fazer upload de arquivos.
Por favor assinar em ou registar para começar a ajudar amadores agora!
Related Tags