Turnigy Reaktor 2 x 300W 20A Balance Charger now with NiZN and LiHV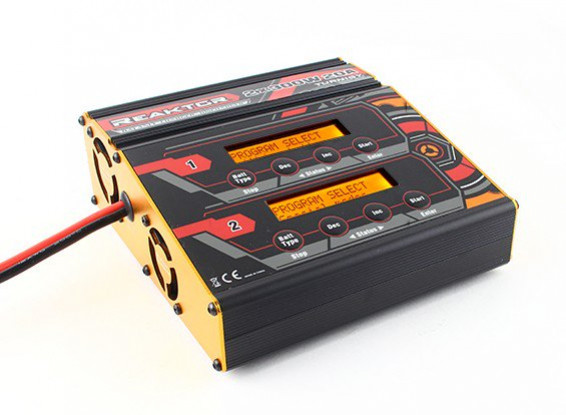 Turnigy Reaktor 2 x 300W 20A Balance Charger now with NiZN and LiHV
WANT FREE SHIPPING?
Click
here
to find out more!
Report Issue
Not Cheapest?
Copy and Share the Below URL
The Turnigy Reaktor 2 x 300W 20A Balanced Changer is now compatible with NiZN and LiHV, max voltage 4.7V and comes with updated software.The compact case design will really blow you away by its high power, high current and it's extremely efficient advanced Synchronous Buck-Boost DC/DC converter system. A powerful microprocessor handles numerous types of charging/discharging settings for different types of battery chemistry. To protect itself, the Reaktor's internal cooling fan will start automatically when internal temperature reaches 55 degrees Celcius (131F), the output power is automatically reduced by 25%. If the temperature exceeds 60 degrees Celcius (140F), the cycle is stopped.
For added safety, while charging lithium batteries, a cell monitor program looks at the per-cell voltages, and process time during charge/discharge. If any individual cell appears over-charged/discharged or the process has gone on for too long, the charger will generate an alarm sound and the related information will blink. Monitor the health of your pack by checking the internal resistance of the battery pack as well as the per-cell internal resistance on balance tap equipped lithium packs. The Reaktor also has protection for reversed polarity (input or output), low input voltage, charging capacity and time overrun. Balance ports integrated into the side of the Reaktor's case means there is no need for extra balance boards to clutter up your table or to lose.
Bundled with the Turnigy Reaktor 2 x 300W is an array of charging wires and plugs, suitable for most of the batteries on the market today. Big power in a small package!
Features:
• 2 x 300W High power, high current, high-performance power conversion circuit
• Updated software
• Advance synchronous buck-boost DC/DC converter technology with an output conversion efficiency that can reach over 90%
• Cooling fan will start/stop automatically according to the internal temperature and charge/discharge power, and protect the charger from overheating.
• Convenient set of 10 battery profiles that can be saved for later use
• 2x16 backlit LCD screen that provides rich information including active mode, current, voltage, total charge(mah), and charging time
• Various charging/discharging settings and cycles to meet a wide range of customer needs
• Up to 300W unique regenerative discharge capability
• Unique lithium battery expanding discharge program. When you connect the external capacity resistance, you can use it as the maximum discharge power capacity-600W (@30V/20A)
• Lithium battery cell monitor looks at the per-cell voltages and process time during charge/discharge
• Electric motor test mode can be used to run-in brushed electric motors, test motor parameters and performance, check tolerances etc
• Battery internal resistance measurement
• The Reaktor charger has protection for reversed polarity (input or output), low input voltage, battery temperature, charging capacity and time overrun
• Li-ion, Li-poly, LiFe and LiHV capable
• Ni-Cd, NiMH and NiZN capable
Specs:
Input voltage range: 10~28VDC
Charging current range: channel 1/2 0.05~20.0A
Discharging current range: channel 1/2 0.05~20.0A
Maximum charge power capacity: 300W@input voltage >18V (Per Channel)
Maximum discharge power capacity: 20W
Maximum regenerative discharge power capacity: 300W
Maximum external discharge power capacity: 500W@25V/20A
Current drain for balancing: < 350mA
Balance accuracy: < 10mV
Lithium (LiPo/Lilo/Life) battery cell count: 1~6 series (In non-balance mode, Life cell count can be expanded to 8S)
NiCd/NiMH battery cell count: 1~17 series
Pb battery cell count: 1~12series (2~24V)
Battery setup memories: 10
Weight: 820g
Dimension: 152x170x60mm
Included:

1 x Turnigy Reaktor 2 x 300W charger
1 x Alligator Clip Charge Lead
1 x Charge Lead - No Connector
1 x Large Clip Set
1 x Temperature Sensor
1 x Manual
*Note: Power supply not included.

***PLEASE NOTE THAT YOU MUST POWER UP THE CHARGER BEFORE CONNECTING A BATTERY TO THIS CHARGER - PLEASE FOLLOW THE CONNECTION INSTRUCTIONS IN THE MANUAL***
Shipping Weight

1128.0000
Upload your file
Only registered users can upload files.
Please log in or register to start helping your fellow hobbyists today!