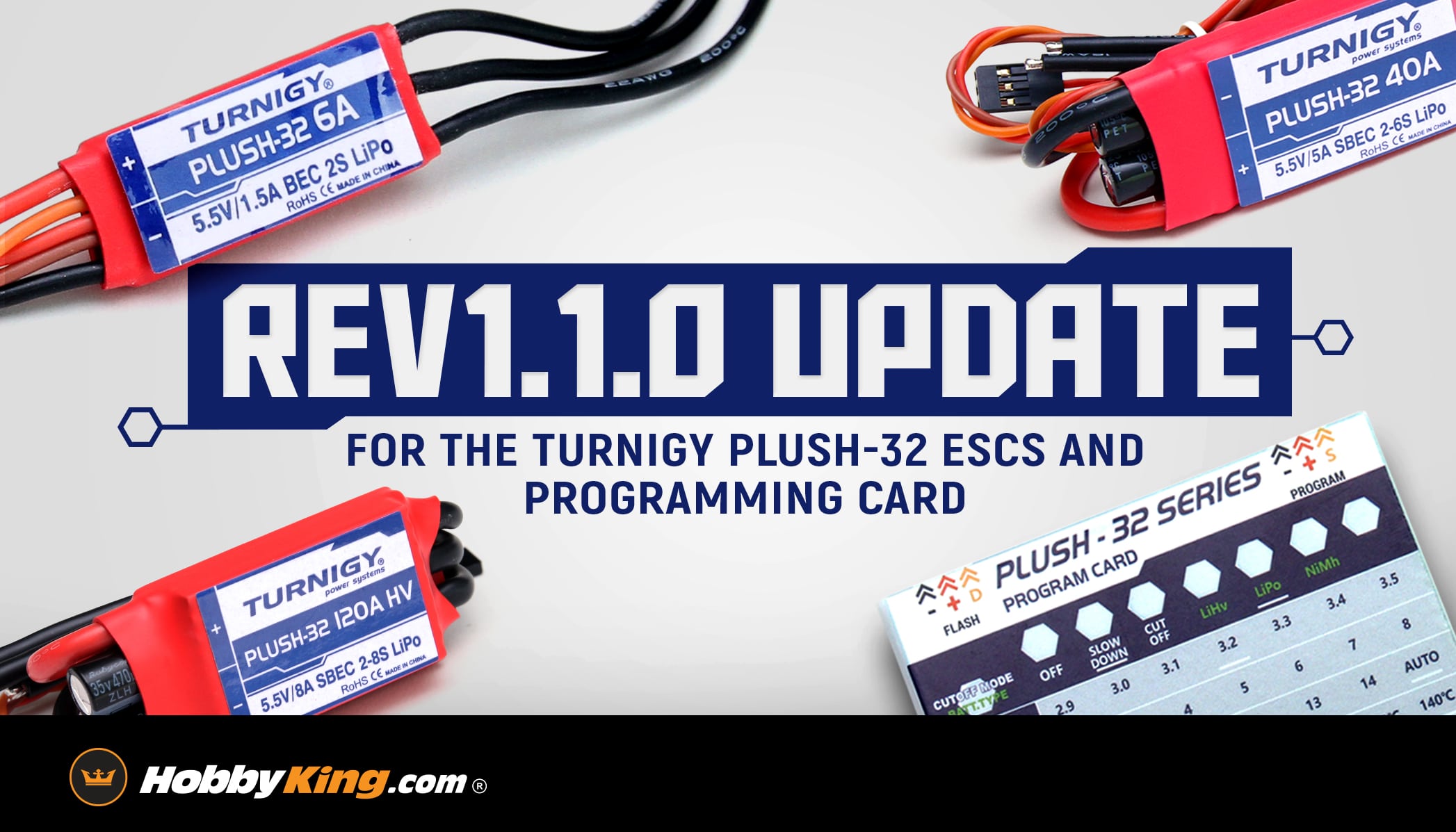 Thank you for supporting HobbyKing and purchasing our Turnigy products. We would like to announce the Turnigy Plush-32 Brushless Speed Controller Programming Card and Turnigy Plush-32 Brushless ESCs are now available with the Rev1.1.0 firmware update to further enhance their functions, performance, and usability.
We'll continue to improve our products and offer updates for our valued hobbyists.
The following Turnigy Plush-32 Series products are updated with the Rev1.1.0 firmware:
Benefits of the update
Rev1.1.0
Turnigy Plush-32 Brushless Speed Controller Programming Card offers more programming options such as motor type, spool-up acceleration, PWM frequency, beacon delay, and an adjustable BEC (only for the 150A ESC)

Added "Beacon Delay" function. This will cause the ESC to start "beeping" after a predetermined delay of not using the throttle stick that can be set using the programming card. The loud beeping noise is perfect for finding your model if it gets lost.

The Rev1.1.0 programming card can still program earlier versions of the Plush-32 ESCs but only ESCs with the Rev1.1.0 firmware can use the new or updated functions.
The Plush-32 series (Rev1.1.0) program card allows you to make the following selections:
Cut-Off Mode: Off/Slow down/Cut-off

Battery Type: LiHv/LiPo/NiMh

Cutoff Voltage: 2.9~3.5V

Number of Cells: 2/3/4/5/6/7/8/9/10/11/12/13/14/auto (depending on amperage of ESC)

Protection Temperature: Off/90/100/110/120/130/140°C (60A and above only)

Advanced Timing: 0/6/12/18/24/30° and auto

Brake: Off/On, can be set from the transmitter

Brake Strength: Off/25/50/75/100%

Motor Direction: Normal/reversed

Start-Up Power: 10/20/25/30/35/40/45%

Auto Rotation Restart Time: Off/10/20/30/40/60S

Motor Type: Normal/Disc Type/EDF

BEC Voltage: 5/5.5/6/7.4/8V (150A version only)

Spool-Up/Acceleration: L1/L2/L3/L4/L5/L6/L7

PWM Output Frequency Range: 8/12/16/24/32KHz

Beacon Delay: Off/1/2/3/4/5/10mins
For further information, please contact us here if you have any questions or comments regarding the updated Turnigy Plush-32 ESC and Programming Card.
We appreciate your continued support for HobbyKing and Turnigy RC products.
---
Hear it First: Join our Mailing List
Sign up to receive new product updates, exclusive discounts, news, and more!