F-TEK 31AP Flight Stabilization Controller & F-TEK OSD Combo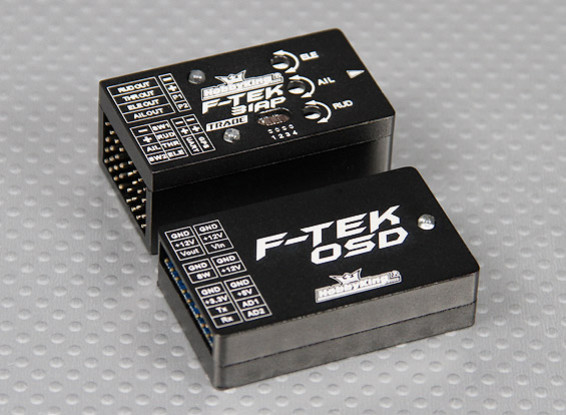 F-TEK 31AP Flight Stabilization Controller & F-TEK OSD Combo
want FREE shipping?
Click
here
to find out more!
Report Issue
Not Cheapest?
Copy and Share the Below URL
The F-TEK 31AP is an inertial attitude measurement instrument used for automated stabilization of fixed wing model aircraft and simple three axis camera gimbals It features an integrated three-axis gyro and three-axis accelerometer which controls the aircraft movement in three-dimensional space.

The F-TEK 31AP also incorporates an accurate barometric pressure sensor. At start up, the take-off air pressure is measured, providing the autopilot with an accurate relative height data.

This flight controller supports the use of aGPS module which enables the autopilot to calculate the flight course and exact location of the aircraft. This allows for precise GPS positioning as well as "return to home" functionality. If the FY31AP is not connected to a GPS module, the autonomous flight system cannot be engaged and it will function purely as a flight stabilizer.


The F-TEK OSD overlays flight telemetry information onto your video image. The telemetry information displayed includes flight altitude, flight speed, flight direction, home direction and so on. You also can save the telemetry information to a MICRO SD card (available separately). The

F-TEK OSD/F-TEK 31AP combo includes the F-TEK 31AP to display autopilot telemetric data, and a GPS receiver to display positioning data.

F-TEK OSD automatically adapts to either PAL or NTSC video input and confirms if there is a MICRO SD card or not. The adaptive processes are within about 20 seconds.

Once the input video is detected (even if there is interruption to the video signal), the telemetry data of the F-TEK OSD will continue to be transmitted via the video stream.


Features:
• Level flight - When stabilization is activated, the F-TEK 31AP will automatically control the aircraft for smooth easy flying. For beginners in RC aircraft flying, this is advantageous as it makes flight easier and increases the student pilot's self-confidence. The system can be activated throughout the entire flight duration, from take off to landing.
• Emergency Recovery - If you lose orientation release all control sticks, maintain throttle and switch ON the F-TEK 31AP. The unit will automatically send the correct signals to balance of the aircraft and regain level flight, giving you time to regain your orientation and fly the plane back to safety.
• Autonomous flight - with the GPS module the autonomous flight system of the F-TEK 31AP will enable you to fly fully autonomous, with up to 8 waypoints set on the Ground Control Station software.
• Ground Control Station - the GCS software will enable you to fly autonomously to up to 8 waypoints, display in-flight telemetry data, and record that flight for replay and analysis (this requires the optional Data Radio hardware).
• Automated circling - by activating this function, the aircraft will automatically circle the selected area at a fixed altitude, the center of the circle is the current point. You can set the circling radius, the default radius is 80 meters.
• Return to Home - You can set autonomous return to home via a 3 way switch or through your failsafe setting, enabling your aircraft to return to home should it lose your transmitter signal. Upon reaching the home point it will automatically engage auto circling, while it waits for your further instructions.
• First Person View - for long-distance RC flight via video transmitter, the F-TEK 31AP will maintain the balance of your aircraft. You only need to control the heading of your aircraft and enjoy the view.

F-TEK 31AP Specs:
Input voltage: 4.0 ~ 6.0V
Current draw: 50mA (5V)
Size: 47x27x20 mm
Weight (excluding wires): 25g
Temperature range: -25 ° C ~ +70 ° C
Maximum rate of rotation: ≤ 2000 ° /s

F-TEK OSD Specs:
Input voltage: 3.0 ~ 3.3 Volt
Current draw: 60mA (3.3V)
Size: 32x32x10mm
Weight (excluding wires): 22g
Temperature range: -25 ° C ~ +70 ° C

Package Includes:
F-TEK 31AP Flight Controller
F-TEK OSD System
Current Sensor
GPS Module
All required connection cables w/USB
Manufactured under license for HobbyKing by Feiyu Tech. 100% compatible with Feiyu Tech software/firmware and supported by the HobbyKing global warranty network. Visit http://www.feiyu-tech.com/ for the latest software and firmware.
| Verified Buyer
Certified Buyer Rated
Dec 17, 2012
dibedu | Verified Buyer
Customer Rated
Nov 28, 2012
ANGEL | Verified Buyer
Customer Rated
Oct 12, 2012
ANGEL | Verified Buyer
Customer Rated
Oct 08, 2012
NITROSAVY | Verified Buyer
Customer Rated
Sep 24, 2012
IntegratedNeck | Verified Buyer
Customer Rated
Sep 15, 2012
Upload your file
Only registered users can upload files.
Please log in or register to start helping your fellow hobbyists today!