HobbyKing Spec FPV250 V2 Drone ARF Combo Kit - Mini Sized FPV Drone (ARF)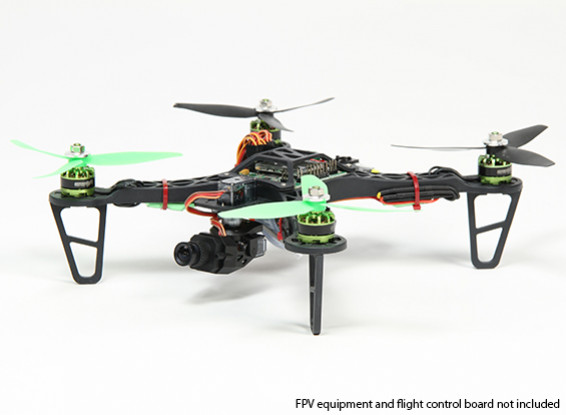 HobbyKing Spec FPV250 V2 Drone ARF Combo Kit - Mini Sized FPV Drone (ARF)
want FREE shipping?
Click
here
to find out more!
Report Issue
Not Cheapest?
Copy and Share the Below URL
Introducing the HobbyKing® ™ Spec Class FPV250 Racing drone kit, a mini sized drone with big FPV capability for park fun or FPV Drone racing.
The FPV250 is a mini sized FPV quad copter measuring in at a mere 250mm. This durable, inexpensive FPV multi-rotor platform is perfect for FPV racing or obstacle course flying at your local field.
The glass filled nylon one-piece frame is extremely durable, giving you the confidence to go FPV barnstorming and yet only weighs 110 grams. The front platform is designed to handle up to a 2 servo pan and tilt camera setup and the rear platform supports the video transmitter, to keep it all nice and balanced. The FPV250 has a center bay, large enough for most popular flight controllers and includes a top crash cage for protection. There are four integrated strap slots on the bottom, to securely hold the battery in place for high G maneuvering. The FPV250 motor mounts can handle anything from a 1506 to 2208 motor and the vented arms provide plenty of cooling for your 7~12A ESCs.
The Spec Kit was selected after testing different configurations and coming up with the optimal setup. We started with the durable FPV250 frame and matched it with the powerful Multistar 1704 motors swinging 5x3x3 props. For the ESCs, we went with the light weight Afro v3 12Amps and included a power distribution lead for a plug and play set-up. To round out the power system, a Turnigy 3s 1000mAh battery with matching Mini JST is included. The spec kit also comes with the recommended pan and tilt kit and all hardware for mounting the motors and battery. All that is left is adding your choice of flight controller and FPV gear.
The HobbyKing® ™ Spec FPV250 is a budget minded FPV basher, ready for daredevil obstacles or Spec Class FPV racing. It's time to start practicing your FPV skills, race season is getting ready to start!
Features:
• Afro 12A V3 (SimionK) esc's and new V2 motors with better shaft's for more abuse
• One piece glass filled construction for durability
• Large 55x55mm cage protected flight controller bay
• Mounting Support for a 2 servo pan and tilt camera and video transmitter
• Removable landing gear
• Optimal running gear included, no guess work needed
• Budget minded fun
• Spec class for FPV club racing ( HobbyKingRacing.com )
Specs:
Wheelbase: 250mm
Weight: 110g
Height: 106mm with Landing Gear and Center Cage
Included:
1 x FPV250 frame kit
4 x Multistar 1704 Motors (updated shafts)
1 x Battery 1000mAh Turnigy 11.1V (3s LiPoly)
4 x Propellers 5x3x3in 2 green 2 black (CW and CCW)
4 x Afro V3 12A ESCs (Simionk)
1 x Power distribution Lead with Mini JST
1 x FPV pan and tilt kit
1 x Hardware for motor mounting and battery strap
Required:
Flight controller such as the KK2.1.5
Minimum 4ch radio (6ch recommended for FPV and FC use)
FPV gear (optional)
HK Spec FPV250 Quad

HK Spec FPV250 V2 Quad

HK FPV250 V2 Quad with kk2.1.5 flips rolls
Chris | Verified Buyer
It's a start
May 16, 2017
Jason | Verified Buyer
Customer Rated
Oct 12, 2016
59gibson | Verified Buyer
Customer Rated
Oct 06, 2016
Tamas | Verified Buyer
Customer Rated
Aug 14, 2016
| Verified Buyer
Certified Buyer Rated
Jul 29, 2016
| Verified Buyer
Certified Buyer Rated
Jul 20, 2016
Marcel | Verified Buyer
Customer Rated
May 04, 2016
Melsy | Verified Buyer
Customer Rated
Apr 22, 2016
Upload your file
Only registered users can upload files.
Please log in or register to start helping your fellow hobbyists today!