JCONCEPTS Dirt Webs 1/10th 2WD Buggy Front Tires - Gold (Indoor Soft) Compound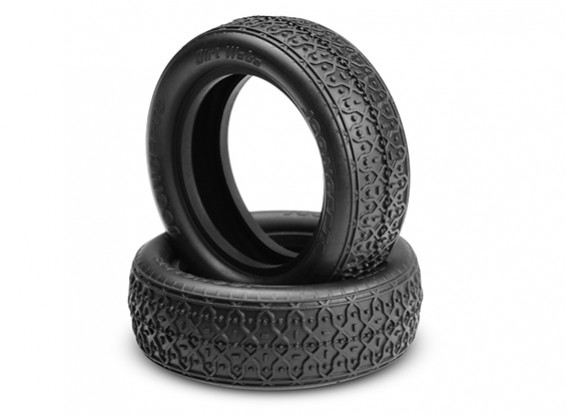 JCONCEPTS Dirt Webs 1/10th 2WD Buggy Front Tires - Gold (Indoor Soft) Compound
WANT FREE SHIPPING?
Click
here
to find out more!
Report Issue
Not Cheapest?
Copy and Share the Below URL
JConcepts is built on the passion and experience of its devoted staff. Since their beginning, they have introduced cutting edge designs, trend setting style and championship winning race results. JConcepts provides unparalleled support to the racer and enthusiast alike while always striving to set a new standard in performance. JConcepts products have proven themselves on tracks around the world and we are proud to now be able to offer them to you.
JConcepts 2WD Buggy Front Tires - Dirt Webs

During 2012, legendary tire builder, Brian Kinwald, came up with a hand-made tire design. After testing at indoor tracks around the country, qualifying results during the 2012 Hot Rod Shootout and working together with JConcepts designer Jason Ruona, the Dirt Webs tire was born. Production tire versions debuted during the 2013 IFMAR World Championships at Silver Dollar Raceway in Chico, CA, where Ryan Maifield used the front tire to his advantage during the A-Final events taking the fastest lap times on his way to a 3rd overall podium finish in the 2wd class.
The tread, originally based on the popular Pressure Points tire design connects uniformly positioned Web-Bars to create an amazingly stable tire. The Dirt Webs, the ultimate Bar-Tire, relies heavily on the Web-treatment for massive forward acceleration; however, the design does not stop there. Inside the supported bar portion rests horizontal and vertical alternating bars which help balance side-bite and backs up the Web-Bars to help minimize wear. Down in the corners, small Pressure Point sized pins break-in quickly providing surface area for specialty indoor racing and also lend a helping hand to stabilize the tire in extreme high-grip conditions.

The outer edges feature a single rib on each side which proves extra side-bite during heavy cornering and side-loading characteristics. The Dirt Web thread sits on the proven "Bar Code" tire carcass giving the tire a low-profile, wide-body appearance allowing clipped tread to extend all the way to the outer edges. The carefully shaped profile allows a great balance of monster forward traction and comfortable side-bite. Available in multiple compounds, the Dirt Webs can easily be matched to any track conditions ranging from indoor clay, indoor dirt to outdoor hard-packed or treated clay or dirt.

Features:
• JConcepts original tread, available in multiple compounds
• Designed in conjunction with Brian Kinwald and Jason Ruona
• Connected Web-bars for stability / forward grip
• Horizontal and vertical bars for side-bite
• Pressure Point pins adds surface area
• 2.2" bead mounting size for compatibility
• Carefully shaped carcass = forward traction
• Includes firm And-1 foam inserts
Specs:
Inter diameter: 60mm (2.4")
Outer diameter: 84mm
Width: 30mm
Compound: Gold (Indoor Soft)
Suitable:Front Tires for 1/10 2WD Buggy