Sanwa/Airtronics M12 Telemetry 2.4GHz FHSS-4T 4CH Surface Radio System with RX-471 Receiver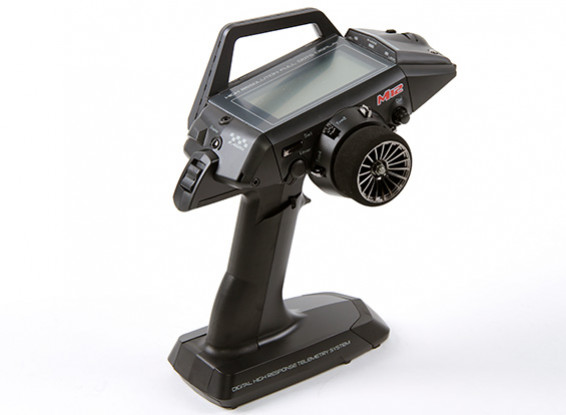 Sanwa/Airtronics M12 Telemetry 2.4GHz FHSS-4T 4CH Surface Radio System with RX-471 Receiver
want FREE shipping?
Click
here
to find out more!
Report Issue
Not Cheapest?
Copy and Share the Below URL
Feel the alternation of generation in R/C industry!

Newly equipped 4x higher spec CPU compared to former world champion model M11X. Brand new M12 realized to double it's analysis ablility. Latency minimized operatbility and innovative features, gurantee M12 as the new flagship of new generation.

As the saying goes time is money, M12 responds almost "Zero-Latency" which human being has ever sensed before. Extremely high response which exceed the former radios. Driving comfotable with no stress. Customable setting allows drivers to change their driving condition instantly.

Racing Mode Setting
(Able to record D/R, Trim, Curve record. Drivers easily change their setting depends on their driving condition by single touch.)
Weight Reduction
Succeeded in weight reduction by changing internal structure.
Fullfilling logger and PC link functions
Drivers be able to keeping track of telemetry data recorded from throttle and steering operation. Enables to access the PC with exclusive cable.

Features:
• 4-Channel 2.4GHz FHSS-4T Digital High-Response Computer Radio with Advanced Programming
• Includes RX-471 2.4GHz FHSS-4T Super Response Receiver
• Large LCD Screen Features STATUS screen, ASSIGN screen and TELEMETRY screen
• High-Power FHSS-4T Technology Provides the Best Reception and Connectivity, Giving Racers Added Assurance
• 4-Cell Battery Holder for Lighter Weight
• Accepts Optional Ni-Cd or Ni-MH Batteries or 2S Li-Po or 2S Li-Fe/A123 Battery Packs
• 50 Model Memory
• Telemetry Logging and Servo Monitor
• Channel Set Menu
• Servo Reversing
• Steering, Throttle and Brake Dual Rate
• End Point Adjustment
• Exponential, ARC and Curve Adjustments
• Servo Speed Adjustment
• Anti-Lock Braking
• Throttle Offset
• Throttle Hold
• Lap Timer and Two Interval Timers
• Large, Easy-to-Read Lap timer Display
• Two Compensation Mixing
• Normal, SSR and SHR Servo Modes
• Center or Parallel Trim Types
• Programmable Fail Safe
• Receiver Battery Voltage Fail Safe
• Digital Trims
• Servo Sub-Trim
• Programmable Push-Button Switches, Trim Switches, Lever and Dial
• Adjustable Steering and Throttle Channel Response Time
• 10 car Type Templates Including 3 Crawler Setups
• User-Selectable Start-Up Screen
• PC-Link Allows PC-Connectivity Using Mini USB cable
• Receiver Safety Link
• Large, Easy-to-Read LCD with Smooth Scrolling
• Five Racing Modes Allow Setup Changes on the Fly While Driving
• Model Select, Naming, Copy, Clear and Sort
• Selectable Modulation Type
• Configurable Vibration Alarms and Timers
• Programmable Low Voltage Alert and Limit Alarms
• Separate Display Button
• Inactivity and Over Voltage Alarms
• Digital Battery Voltage Monitor
• Adjust for Right-Handed or Left-Handed Use

Transmitter Specifications:
Output Power: 100mW
Nominal Input Voltage: 4.8~7.4V
Operating Voltage Range: 4.0~9.6V
Dry Weight: 590g
Frequency: 2.4GHz FHSS
Modulation Type: FH2, FH3, FH3F, FH4T, FH4FT

Receiver Specifications (RX-471):
Nominal Input Voltage: 4.8~7.4V
Weight: 6.6g
Dimensions: 30x23.3x14mm
Frequency: 2.4GHz FH3/FH4 Selectable Via Transmitter
Fail Safe Support: Yes (All Channels)
Battery Voltage Fail Safe Limit: 3.5~7.4V (FH4) / 3.5~5.0V (FH3)

Included:
M12 FH4T Digital High-Response Telemetry Transmitter
RX-471 Super Response Receiver
On/Off Switch
Receiver Battery Holder
Optional Grips (Large and Small)
Optional Larger Diameter Steering wheel
Optional Steering wheel Angle Plates (Right and Left)
Optional Steering Wheel Offset Plate
Optional Steering Wheel Springs (Soft and Hard)
Optional Throttle Trigger Angle Brackets (Thin and Thick)
Receiver Dust Boot Covers
User's Guide

Required:
4 'AA' Alkaline or NiCd/NiMH cells or 2S LiPoly or 2S LiFe Battery Pack for Transmitter

*Note* Please be aware that analog servo could not be activated under SHR,SSR mode. To prevent risks of trouble, do not use analog servo under SHR,SSR mode.
SSR mode only activates on SRG series.
The Sanwa M12 can be operated with all Sanwa 2.4GHz FHSS-2, FHSS-3 and FHSS-4 car receivers.