ImmersionRC Vortex 150 Mini Racing Quadcopter (ARF) The Pocket Rocket (1-25mW Version)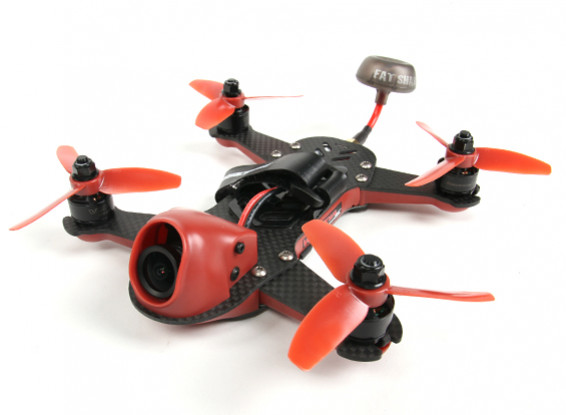 ImmersionRC Vortex 150 Mini Racing Quadcopter (ARF) The Pocket Rocket (1-25mW Version)
want FREE shipping?
Click
here
to find out more!
Report Issue
Not Cheapest?
Copy and Share the Below URL
The Pocket Rocket. There couldn't be a better name for this little drone from ImmersionRC. The Vortex 150 Mini Racing Quadcopter is built for speed with 1306-3100kv motors, 3rd Gen 16A EzESCs (with OneShot125, OneShot42, MultiShot, rotorSENSE support) and 3" tri-blade propellers.
The Vortex 150 Racing Quadcopter comes almost ready to fly with just the addition of a radio transmitter, battery, receiver and FPV goggles or monitor set-up to get you going. It's built on all the great goodies that it's bigger relatives use plus a few new ones. The new Synergy Flight controller adds the Fusion2 FC (with OSD) and the Tramp HV video transmitter (40ch) integrated into the one lightweight (6.41g) package. Dynamic Power Control keeps the power use down while in the pits and brings it up to full level when you need it. This keeps temperatures and power usage down when you don't need it. The on-board, full graphic OSD not only provides in-flight parameters, it now sports a menu to set up your controller in the field using your flight controller and goggles or monitor (without the need for a laptop). Setup using either preprogrammed setups or build your own. There are also several pre-programed OSD layouts that can be used. Look like a HUD of a fighter jet or a race layout with the data around the edges.
The new Integrated Touch'n'Race (NFC) system allows for easy change of video transmitter power and frequency without the need to touch the Pocket Rocket. Makes setting up your VTX a breeze. Great for using at your next race meet. (TNR Race Wand device sold separately).
To jazz things up the rear RGB LEDs come with a light-pipe diffuser to ensure everyone can see them. Just in case of a crash there is also the lost model beeper to help you find your downed drone.
The Pocket Rocket can fly anywhere so get out there.
Features:
• Fusion of 3k weave Carbon Fiber and tough molded plastic
• Synergy Flight Controller (Cleanflight / Betaflight)
• Twin 'F3' Processors (Flight Control, and OSD) (CPU STM32F373 32-bit ARM processor)
• 1306-3100kv motors
• 3rd Gen 16A EzESCs, With OneShot125/42 support
• Direct connection to PPM, Spektrum, S-Bus, XBus receivers
• Integrated full-graphic OSD, with on-screen control of.... Everything
• DSMX Video Transmitter Control with Dynamic Power Control
• Integrated Touch'n'Race system (TNR Race Wand sold separately)
• Integrated Leading-edge 5.8GHz 40Ch Video Tx
• 500mAh~750mAh 4S battery recommended
• Sub 250g configuration with 500mAh pack
• Each Vortex 150 Mini is tested before leaving factory
• LED Board integrated into PDB (XT30 Connecter)
• Lost Model Beeper
• Internal Rx installation
Specs:
Wheelbase: 155mm
Arms: 2mm Flat CF/Plastic Hybrid
Weight: <250g w/500mAh 4S pack
Frame: 2mm CF, with Aluminium Standoffs
Motors: Vortex 1306-3100kv, 2mm Shaft
ESC: 16/20A EzESC Gen3
ESC Features: OneShot125, OneShot42, MultiShot, rotorSENSE
Props: 3030 3″ Tri-Blades
Gyro: SPI Gyro, for 8kHz loop speeds
Microphone: Integrated
Flight Camera: FatShark 600TVL CCD (HS1177 sensor + chipset)
Video Tx Power: 1mW - >600mW variable
Pit Mode: Full Support
Glitch Free Channel Change: Full Support
Rx Support: Native CPPM, S-Bus, Spektrum, XBus, SumD, SumH
Rx Selection: Fully Automatic
Internal Rx Support: SPM9645 (DSMX), SPM4648 (DSMX). XSR (FrSky), X4R-SB (FrSky, depinned)
Included:
1 x ImmersionRC Vortex 150 Mini Racing Quadcopter
4 x 3030 3-Blade Propellers (Spare)
1 x Cable Set
1 x Manual
Recommended:
1 x Radio TX/RX system (min 5 channel)
1 x FPV Video Goggles or monitor
1 x Battery 500~750mAh 4S LiPo
1 x TNR Race Wand
Video Tx:
Transmitter Module: Custom Tramp HV, integrated on FC/OSD board (Synergy)
Channels: 40 Initially, programmed via OSD
Bands: 5, including the ImmersionRC/FatShark bands, and RaceBand
Frequency, IRC/FS: 5740, 5760, 5780, 5800, 5820, 5840, 5860, 5880 MHz *
Frequency, RaceBand, CH1..8: 5658, 5695, 5732, 5769, 5806, 5843, 5880, 5917 MHz *
Frequency, 'A' Band, CH1..8: 5865, 5845, 5825, 5805, 5785, 5765, 5745, 5725 MHz *
Frequency, 'B' Band, CH1..8: 5733, 5752, 5771, 5790, 5809, 5828, 5847, 5866 MHz *
Frequency, 'E' Band, CH1..8: 5705, 5685, 5665, 5645, 5885, 5905, 5925, 5945 MHz *
Power Output: 350mW +/- 1dB (EU version of the 150 Mini limited to 25mW)
Audio: Stereo, Right channel used for Telemetry, Left channel for onboard mic.
Recommended Antenna: Supplied SpiroNET Omni, Skew Planar, 4 leaf
* Note: Certain 5.8GHz channels may be restricted depending upon the target region, and reseller
requirements.
ImmersionRC Vortex 150 Mini Racing Quadcopter
Upload your file
Only registered users can upload files.
Please log in or register to start helping your fellow hobbyists today!