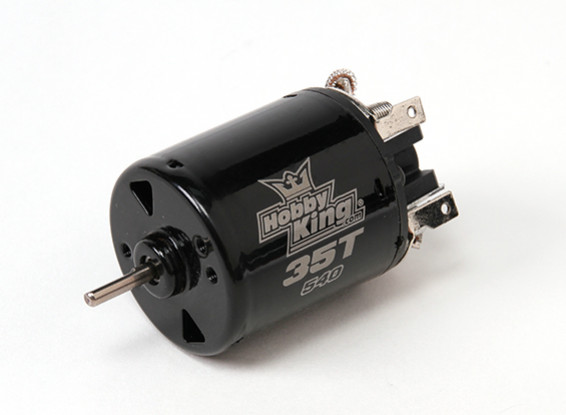 WANT FREE SHIPPING?
Click
here
to find out more!
Report Issue
Not Cheapest?
Copy and Share the Below URL
The RS540-35T brushed motor is a geat, no nonsense solution to power your car or boat.
Must be used with a suitable brushed ESC (see related items below.)
Features:
• Replaceable brushes
• Comes pre-fitted with capacitors to help eliminate unwanted radio interference.
Specs:
RPM: 12500 /7.2V at no load
No load current: 1.8A
Shaft Size: 3.175mm
Weight: 162g
Dimensions: 36 x 53mm
The motor looks nice, specs are nice, price is OK.

Received it a couple of days ago, went into my Vattera TH. Before I had Hackmoto 45t in, wanted some more speed from it.
Hackmoto 45t was a bit more expensive, no condensers, no wires.

So, HK prepared motor to be usable out of the box. I did a break-in procedure on low RPM in water. Water got black in 5 minutes...

Opened the motor and found out that brushes are 30pcnt shorter than competitor, made only of graphite (not copper/graphite sinter mix)

Housing for brushes made of nickel plated steel opposed to copper made from Hackmoto, so lower conductivity, lower heat conductivity from brushes, all contributing to shorter lifetime.

Main shaft is ball bearing and runs quiet.

It also handled 3S until now, a bit hot.

OK for price
OK for quality
OK for value.

Could be worse, could be better. Your choice what works out for you best ;-)
The motor looks nice, specs are nice, price is OK.

Received it a couple of days ago, went into my Vattera TH. Before I had Hackmoto 45t in, wanted some more speed from it.
Hackmoto 45t was a bit more expensive, no condensers, no wires.

So, HK prepared motor to be usable out of the box. I did a break-in procedure on low RPM in water. Water got black in 5 minutes...

Opened the motor and found out that brushes are 30pcnt shorter than competitor, made only of graphite (not copper/graphite sinter mix)

Housing for brushes made of nickel plated steel opposed to copper made from Hackmoto, so lower conductivity, lower heat conductivity from brushes, all contributing to shorter lifetime.

Main shaft is ball bearing and runs quiet.

It also handled 3S until now, a bit hot.

OK for price
OK for quality
OK for value.

Could be worse, could be better. Your choice what works out for you best ;-)
Combine Essential Items and Save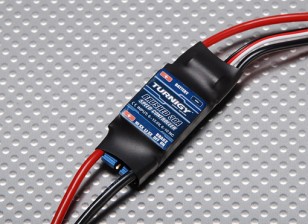 Now save save $0.00 $0.00
$10.92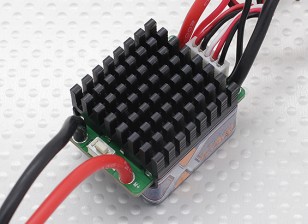 Was &nbsp $11.32
Now save save $4.72 $4.72
Special Price $6.60 $6.60
You save save $4.72 $4.72
Was&nbsp $11.32