SKYRC IMAX B6 V2 60W 6A 1~6S DC Charger/Discharger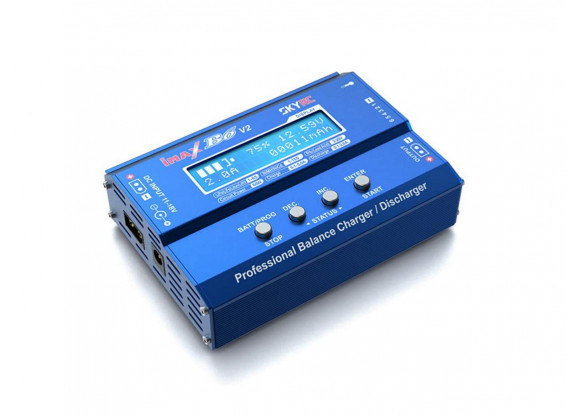 SKYRC IMAX B6 V2 60W 6A 1~6S DC Charger/Discharger
want FREE shipping?
Click
here
to find out more!
Report Issue
Not Cheapest?
Copy and Share the Below URL
The SKYRC IMAX B6 has always been a popular advanced charger, able to charge, balance, and discharge LiIon, LiPoly, LiFe (A123), NiCd, NiMH, and Pb batteries, with the V2 it has now got even better. It is microprocessor controlled just like all the best chargers and will balance the individual cells in your Li-XX batteries plus lots more. The B6 V2 is a DC-only input charger, it requires a DC input of between 11~18V which can be supplied from either a battery or an AC mains power supply.

The IMAX B6 V2 follows the lineage of the original B6 but has been improved by increasing the maximum charge power from 50W to 60W, and the maximum charge current from 5A to 6A. Another addition to the V2 is an "AGM Charge" for charging AGM Pb batteries and a "Cold Charge" for charging Pb batteries in cold weather. AGM Pb batteries can be charged up to 5 times faster than conventional Pb batteries, this mode enables this different higher charging rate process. When charging Pb batteries in cold weather special consideration is also required, a cold Pb battery requires a higher charge voltage than when it is warmer, the V2 will also sort this for you when the "Cold Charge" mode is selected. Another additional feature is the "DJI Battery Program", which allows you to charge DJI Mavic TB4X batteries using your B6 charger.

The B6 V2 still retains the popular features of the original model such as the Auto function, Voltage Calibration, Charging Memory, Battery Memory, Terminal Voltage Control, and the balancing of individual cells. Special features include a Battery Internal Resistance Meter, Battery Voltage Meter, Storage Mode, Re-Peak Mode for NiMH/NiCad batteries, and lots more. Please see the attached User Manual for the complete list of features available with the IMAX B6 V2.

Features:
• Microprocessor controlled
• Individual cell balancing
• LiIon, LiPoly, LiFe, NiCd, NiMH, and Pb capable
• Pb "AGM" and "Cold" charging modes
• Storage charge function
• Input voltage monitoring (Protects car batteries at the field)
• Can store up to 10 different charge/discharge profiles

Specs:
Input Voltage: 11~18V
Max Charge Power: 60W
Max Discharge: 5W
Charge Current Range: 0.1~6.0A
Discharge Current Range: 0.1~2.0A
NiMH/NiCd Cells: 1~15
LiIon/LiPoly Cells: 1~6
Pb Battery Voltage: 2~20V
Controls: 4 programming buttons
Display: Backlit 2x16 LCD
External Balance Port: XH
Charging Output Port: XT60 Male
DC Input Ports: XT60 or DC jack
Other Ports: Temperature sensor
Case: Aluminum
Weight: 238g
Dimensions: 115x84x31mm

Included:
SKYRC IMAX B6 V2 60W 6A 1~6S DC Charger/Discharger
DC Input Cable
XT60 Female to T-Connector Charge Lead
XT60 Female to Crocodile Clips Charge Lead
Instruction Manual

Note: A copy of the instruction manual with full specifications is available under the "Files" tab above.
Ed | Verified Buyer
SKYRC IMAX B6 V2 Charger/Discharger
Dec 26, 2022
Mark | Verified Buyer
Works great (but turn off the extra beeps)
Nov 21, 2021
nuno | Verified Buyer
Excellent product
Jul 10, 2021
Carlosbenitez | Verified Buyer
Sirve para todo
Jul 08, 2021
The Artisan | Verified Buyer
Beware, this does not come with a mains lead!
Dec 11, 2020
Upload your file
Only registered users can upload files.
Please log in or register to start helping your fellow hobbyists today!