HOTA P6 2 x 300W 1~6S Dual Smart Charger/Discharger (DC Only)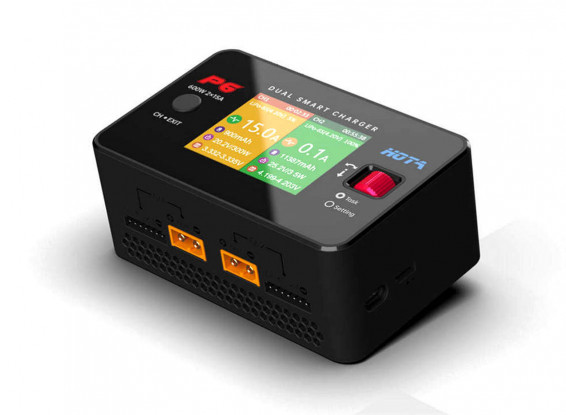 HOTA P6 2 x 300W 1~6S Dual Smart Charger/Discharger (DC Only)
want FREE shipping?
Click
here
to find out more!
Report Issue
Not Cheapest?
Copy and Share the Below URL
The HOTA range of chargers/dischargers is quickly becoming renowned for their quality, reliability, and numerous great features. This amazing dual charger/discharger can charge up to 2 x 300W all in a tiny package measuring 111x70x45mm and weighing just 292g. It offers loads of protection to safeguard against damaging itself or your battery packs such as temperature protection, capacity protection, input and output reverse protection, short circuit protection, and much more. See the attached user manual for the full list of features and protections.

It features a simple system for programming, there is a channel key for selecting which channel you wish to program and a speed shuttle key for all the other programming selections. This speed shuttle key is pressed to enter the task, scrolled to adjust the task, then pressed again to enter the task, all very straightforward and simple. It also has a 2.4" 260000 colors IPS display which makes the whole user experience a very easy and simple operation. A unique feature of this charger is that it recycles the discharge power when being used to discharge a battery. This regenerative discharge takes most of the output battery's energy and puts it back into the input battery in a balanced environmentally friendly way. Another feature of the charger is the advanced circuit design and charging algorithm which ensures better and more reliable charging and discharging.

The HOTA H6 Dual has numerous ports, on the input side, there is a standard XT60 DC port for the input power of 10.5~30V DC. Then on the output side, there is a micro (type C) USB port for firmware updates, a multi-function port, 2 x XT60 output ports, 2 x 6S balance ports, and a 5V (type A) USB port. The multi-function port has a Futaba/JR style connector which can be used as a servo tester for testing your servos or for testing the output of your receiver and transmitter.

Overall this is a great little user-friendly dual charger/discharger that will charge or discharge 2 batteries simultaneously. It is suitable for LiHV, LiPo, LiFe, LiLon, Lixx, NiZn, NiCd, NiMH, Pb, and Eneloop batteries and each port can charge/discharge different chemistry batteries at the same time. All this can be done in your workshop if you have a suitable power supply or out in the field when connected to a DC battery source.

Features:
• Amazing power-to-size ratio
• 2 x 300W charging power
• Fully protected with SCP, OLP, OVP, OTP, and OCP
• Simple shuttle key programming
• Up to 600W (2 x 300W) unique regenerative discharge capability
• 2.4" IPS display
• Built-in micro USB for firmware updates

Specs:
Input Voltage: DC 10.5~30V
Charge Current: 2 x 0.1~15A
Charge Power: 2 x 300W
Internal Discharge Power: 2 x 12W (balance port 2 x 6W)
External Discharge Power: 2 x 300W
Regenerative Discharge Power: 2 x 300W
Lithium Battery Types: LiHv/LiPo/LiFe/Lilon/Lixx (1~6S)
Nickel Battery Types: NiZn/NiCd/NiMH: 1~14S
Smart Battery: 1~6S
Lead Acid (Pb) Battery: 2~24V
Enelop Battery: 1~14S
Balance Current: 2 x 1000mA
Discharge Current: 2 x 0.1~3A
External Discharge Current: 2 x 0.1~15A
Micro (type C) USB Output: 5V / 2.1A
Std (type A) USB Output: Max 45W
Screen Size: 2.4" IPS 320x240 260,000 colors
Dimensions: 111x70x40mm
Net Weight: 292g

Please note: A copy of the user manual is available under the "Files" tab.
Mike B. | Verified Buyer
Slick field charger
Feb 09, 2023
tru | Verified Buyer
very good experience.
Apr 27, 2022
keenconny | Verified Buyer
High power, small size
Mar 30, 2022
Nikola | Verified Buyer
HOTA P6 2 x 300W 1~6S Dual Smart Charger/Discharger (DC Only)
Sep 04, 2021
the best | Verified Buyer
the best charger on the market by far, easy to use and really good value for money.
Aug 18, 2021
Alvaro | Verified Buyer
Crappy copy of another crap
Aug 04, 2021
Robert | Verified Buyer
Gute Leistung
May 17, 2021
Upload your file
Only registered users can upload files.
Please log in or register to start helping your fellow hobbyists today!