Turnigy LiHV High Capacity 5200mAh 3S2P 12C Lipo Pack w/XT60

Turnigy LiHV High Capacity 5200mAh 3S2P 12C Lipo Pack w/XT60
want FREE shipping?
Click
here
to find out more!
Report Issue
Not Cheapest?
Copy and Share the Below URL
High Voltage Lipoly batteries (LiHV) offer greater power density than traditional lipo batteries allowing you to increase your flight times without the penalty of added weight
Multistar high-capacity batteries are the result of extensive testing and development with one goal in mind...increasing flight times for your multi-rotor aircraft without the penalty of added weight.
We have achieved our goal by drastically increasing the battery capacity (mAh) while lowering the discharge rate. This results in a battery that is still capable of providing sufficient current (Amps) while offering much higher capacity when compared to a standard 20C+ LiPoly battery of the same weight.
What this all means is that Multistar batteries are able to provide flight times much longer than standard LiPoly battery packs without adding any weight to your multi-rotor model, making them absolutely ideal for use with aerial video and FPV multi-rotor aircraft.
LiHV stands for "High Voltage Lithium Polymer". These batteries have been around for years and can be safely charged to 4.35V, higher than the typical voltage of a Lipo.
The advantages of LiHV batteries are higher power and longer running times. LiHV batteries can be charged to 4.35V per cell, higher than normal LiPo batteries which sit at 4.20V. For example, a 4S LiHV pack charged at 4.35V would give you 17.4V. Whereas a Lipo battery on the same charge would only get 16.8V. LiHV batteries also have lower internal resistance and are less prone to "puffing".
We have a full range of Multistar High Capacity Multi-Rotor battery packs in the works and will be adding new sizes/configurations as they become available.
Features:
• LiHV Chemistry (Requires LiHV capable charger)
• Ultra high capacity LiPoly batteries designed specifically for multi-rotor use
• Fitted with genuine XT60 connectors
• Similar size/weight as batteries of much lower capacity, making these a direct drop-in upgrade for most multi-rotor aircraft
• Provides increased flight times of up to 30% or more when compared to standard LiPoly batteries of the same weight
• Ideal for use with aerial video and FPV multi-rotor aircraft
Specs:
Minimum Capacity: 5200mAh
Configuration: 3S / 11.4v / 3Cell
Constant Discharge: 12C
Peak Discharge (10sec): 24C
Pack Weight: 320g
Pack Size: 107 x 35 x 47 mm
Charge Plug: JST-XH
Discharge Plug: XT60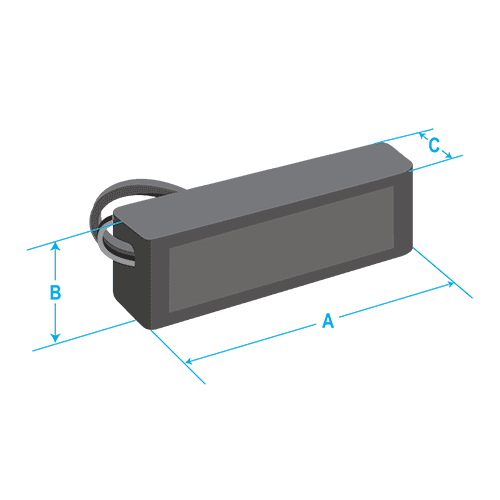 Old & Bold | Verified Buyer
Great product, pity about the long delivery time.
Aug 14, 2022
Jeroen | Verified Buyer
Best price LiHV cells
Nov 11, 2021
Andreani Luciano | Verified Buyer
The only battery of this capacity whose dimensions are fine for our drone drawers. As for quality we can say good.
Nov 07, 2021
Deadcat | Verified Buyer
500mm quad LiHV battery
Oct 14, 2021
Cheapo | Verified Buyer
Best in Class.
Jul 22, 2021
Old & Bold | Verified Buyer
Good Product. Slow and expensive shipping from Aus to NZ
Apr 28, 2021
moljac | Verified Buyer
Great battery
Apr 02, 2021
Col | Verified Buyer
Turnigy 3s 5200MAH 12c lipo
Jan 06, 2021
David | Verified Buyer
Reliable batteries.
Dec 16, 2020