Durafly EFXtra Racer (PNF) Green Edition High Performance Sports Model 975mm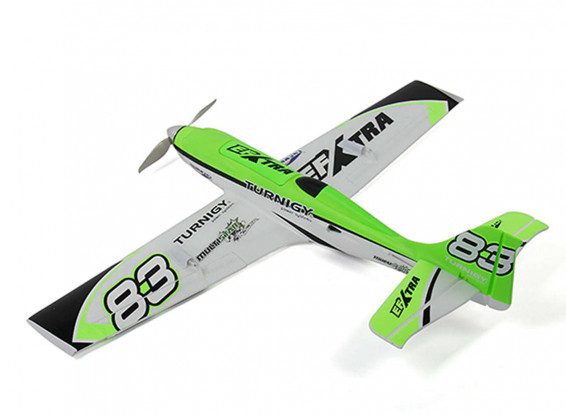 Durafly EFXtra Racer (PNF) Green Edition High Performance Sports Model 975mm
want FREE shipping?
Click
here
to find out more!
Report Issue
Not Cheapest?
Copy and Share the Below URL
If you're craving speed, the EFXtra is where it's at, with out-of-the-box performance in excess of over 100 miles per hour. Durafly retained the spirit of the EFX Racer and focused on adding extra performance, like the incredible roll and climb rates.
There are plenty of high-performance features and new additions over the EFX Racer. The Durafly EFXtra boasts a new clipped wing (975 millimeters) to give extreme roll rates. An upgraded 3536-1780kv brushless motor (using ultra-high-speed Japanese bearings) with a 60A Aerostar ESC has been added and optimized, for up to 4S performance. Higher speed, higher torque digital 9g servos (metal geared on the ailerons) together with ball link connectors provide true precision control of all surfaces no matter what speed you are traveling. We've even included FPV mount in the box for the adrenaline junkies that love to live life on the edge.
Durafly heard your calls and redesigned the airframe to fit larger capacity LiPo battery packs resulting in longer flight times. The aircraft is stronger than ever with both glass and carbon fiber reinforcements throughout whilst keeping the airframe as light as possible. Super Compressed EPO foam and polished finish to deliver the ultimate in performance with the sleekest of looks. How fast you go depends on the propeller and battery size. The plane comes with two propellers, for the standard setup of 3S an 8x6 prop or for the performance setup of a 4S a 7x6.5 prop.
Complimenting the amazing speeds of the EFXtra is its stability at low speed making hand launching and landing a dream. The EFXtra is also an agile slope soarer, just remove the propeller and spinner and add, the provided, slope soaring nose cone. Once again, the airframe provides excellent stability at all speeds to make it a breeze to fly in all conditions. Imagine slope soaring with FPV.
The EFXtra clips and screws together in minutes allowing you to get in the air as soon as possible. Just install your receiver and battery and you're in the air.


Features:
• 100mph+ performance right out of the box (on 4S set-up).
• Specially designed 3536-1780kv brushless motor with high-speed Japanese bearings.
• Powerful and fast 9g digital servos.
• 3S or 4S as standard
• Supplied with 8x6 propeller for 3S and 7x6.5 propeller for 4S set-ups.
• Super Compressed EPO foam construction.
• Larger internal capacity
• Glass and carbon fiber reinforcement throughout the airframe.
• Full wing length spar
• No glue assembly. Just clicks and screws together in minutes.
• Ball link control system.
• FPV Mount
• Slope soaring nose cone
• Full complement of spare parts available.


Specs:
Wingspan: 975mm (38.4")
Length: 760mm (29.9")
Flying Weight: ~ 920g (32.45oz)
Wing Loading: 61g/dm.dm
ESC: 60A Aerostar
Motor: 3536-1780kv Brushless
Battery: 1800~2400mAh 4S 65C or 2200~2600mAh 3S 65C (not supplied)
Prop: 7x6.5 for 4S or 8x6 for 3S (supplied)
Controls: 4 Channel (Throttle, Ailerons, Elevator, Rudder)
Spinner: Custom made aluminum
FPV Racing Canopy: Included
Slope nose cone: Included


Recommended:
1 x 1800~2400mAh 4S 65C or 2200~2600mAh 3S 65C LiPo Battery
1 X 4 Channel Radio TX/RX
1 x FPV Setup (optional)
Durafly EFXtra Product Video

Maiden Flight EFXtra

EFX Air Racing in KOREA

EFXtra Racing in Korea

Maiden flight EF Extra

Maiden flight EF Extra 1800mah 4s

EFXTRA Durafly Hobbyking Maiden Flight

EFXTRA Durafly Hobbyking Maiden Flight

Awesome FPV machine

Turnigy efxtra racer FPV by elpet

Maiden-flight 4S 2200mah

6S 1550mah High-speed!

EFXtra High Performance Racer - Teaser

island flight with EFXtra

Crash, repair and fly again in 10 minutes

EFXtra Racer

Durafly EFXtra High Performance racer rc plane Review and advice

Hayden Greens 6cell

HobbyKing Review and Flight Demos of the Durafly PNF EFX Racer, and EFXTRA Racer.
We hope you are enjoying your new HobbyKing items. We'd love to know how everything worked out for you. Please take a moment to | Verified Buyer
Fotios | Verified Buyer
A lot of fun for the money
Apr 13, 2022
GMACKAY | Verified Buyer
DURAFLY EFXTRA RACER
Mar 18, 2022
jerwaz | Verified Buyer
Fast and powerfull ! Once you master it
Feb 25, 2022
Tim | Verified Buyer
Neat addition
Nov 17, 2021
richg | Verified Buyer
great plane and motor but inferior esc and servos
Nov 05, 2021
Upload your file
Only registered users can upload files.
Please log in or register to start helping your fellow hobbyists today!
Related Tags