H-King Fieseler Fi 156 Storch Balsa Wood RC Laser Cut Airplane Kit 1600mm/63" (for electric or I.C.)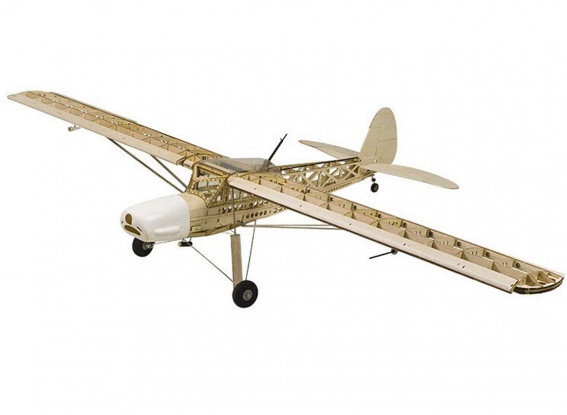 H-King Fieseler Fi 156 Storch Balsa Wood RC Laser Cut Airplane Kit 1600mm/63" (for electric or I.C.)
want FREE shipping?
Click
here
to find out more!
Report Issue
Not Cheapest?
Copy and Share the Below URL
Foam model aircraft are great if you want to get flying quickly, but after a while tends to all fly and assemble the same way, and it could be said lack a certain sense of achievement. So why not experience the thrill and satisfaction of building your very own model from a kit of parts, covering it in your own unique color scheme, and watching it fly successfully for the very first time.
H-King has made this much easier for you with their range of laser cut kits. For ease of construction, all the wooden parts are beautifully laser cut so you can build the perfect model. The laser cutting is so accurate that the parts fit very snugly together allowing them to hold in place whilst you run a good CA glue around the joints.
The subject of this kit is the German liaison aircraft built during WW2, the Fieseler Fi 156 Storch. The Storch (German for "Stork") is famous for its STOL (Short Take-Off and Landing) abilities and it had an incredibly low stall speed of only 31mph (miles per hour). It was mainly used during WW2 for reconnaissance, spotting for the army and forward operations, and medical evacuation. Its design incorporated hinged slats along the entire length of the wings leading edge and a hinged and slotted set of control surfaces ran along each trailing edge, this was split equally to form outboard ailerons and inboard flaps. Virtually nothing about the Storch is streamlined with bits sticking out everywhere including the side windows, this with its long undercarriage hanging down gives it a unique long-legged bird look which is why it was given the name of "Storch".
This kit is an updated version of an earlier version. The improvements over the original are improved undercarriage and strut attachments, improved pushrod system, 3 layer tailplane construction for added strength, and improved scale detail. This model captures the very essence of the Fieseler Fi 156 Storch with its solid yet lightweight framework structure as per the full-size aircraft but is built from balsa and hardwoods and includes a molded plastic cowl and rear screen. Also supplied are a pair of scale aircraft wheels, carbon tube wing spars, and joiners plus a comprehensive hardware pack that includes nuts, bolts, control horns, rods, and connectors, etc.
The Fieseler Storch has been designed to use a 28mm brushless outrunner motor with 300~400 watts of power or it can be modified to take an equivalent nitro engine. The leading edge slats can be fixed for a simpler set up or they can be working with a servo on each. The flaps also could be fixed for a simpler set up but this model comes into its own with working flaps. So if you have working slats and flaps plus the ailerons you will require 6 x 9~10g micro servos for the wings then 2 x 9~10g or similar for the rudder and elevator.
Overall this is a fantastic kit and due to its ease of construction, it is perfect for the seasoned builder or those with limited building experience. Once finished in an authentic color scheme, and with the addition of scale accessories such as a pilot and instrument panel, this scale looking Fieseler Storch will look the part and turn heads when performing low, slow passes and STOL take-offs and landings at your local flying field.

Features:
• Laser cut parts for accuracy and ease of construction
• Carbon spars and wing tubes
• Molded plastic cowl and rear screen
• Scale looking and functional landing gear
• Authentic working slats and flaps
• Comprehensive hardware pack

Specs:
Wingspan: 1600mm (63")
Fuselage Length: 1000mm (40")
Flying Weight: 1.6~1.8Kg approx (will depend on power train chosen)
Motor: 2836~2840 (300~400 watt) brushless outrunner motor or nitro equivalent
ESC: 30~50A suitable for up to 4S Lipo battery
Propeller: 10" or larger depending on power train chosen
Battery: 2200~2800mah 3~4S Lipo battery

Required (Electric version):
2836~2840 (300~400 watt) brushless outrunner motor or nitro equivalent
30~50A 4S ESC with BEC
10" propeller or larger
2200~2800mah 3~4S Lipo battery

Required (I.C. Version):
25~30 2-Stroke glowplug type
30~40 4-Stroke glowplug type
Propeller to suit
Fuel tank and piping
Receiver battery with on/off switch

Required (both versions):
Covering material
Assorted glues
Assorted hand tools
8 x 9~10g micro servos (9 required if using a nitro engine)
Minimum 6ch transmitter and receiver

Please note: There is a copy of the building manual under the "Files" tab.
Motorsize(diam-or-cc)

28.00
Dave | Verified Buyer
Do NOT order from EU warehouse for USA shipment
Aug 19, 2022
Alois | Verified Buyer
Jungfernflug
Feb 25, 2022
Armin | Verified Buyer
It's more like assembling ready-made components.
Feb 09, 2022
Alois | Verified Buyer
Excelente Bausatzqualität
Feb 07, 2022
Armin | Verified Buyer
Preissteigerung um 21,6 % in 2022 zu 2021! Nicht schön.
Jan 19, 2022
Rcoffman | Verified Buyer
Hawkeye | Verified Buyer
Superb kit, with all pre-cut parts fitting nicely. Kit includes almost everything you need to complete it.hing you need to complete the model is included
Oct 16, 2021
Walt | Verified Buyer
Fieseler Fi 156 Storch
Oct 14, 2021
Upload your file
Only registered users can upload files.
Please log in or register to start helping your fellow hobbyists today!