H-King (PNF) Swiss J-3 Piper Cub EPO 1400mm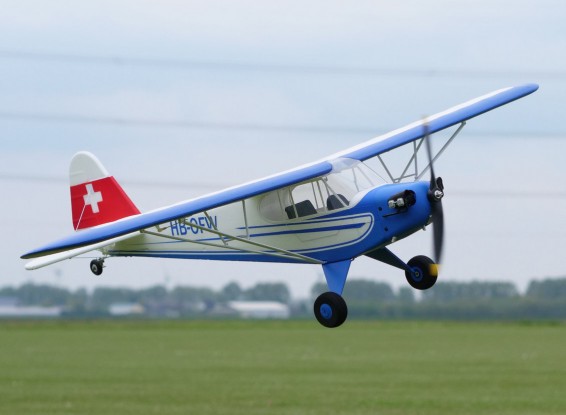 H-King (PNF) Swiss J-3 Piper Cub EPO 1400mm
want FREE shipping?
Click
here
to find out more!
Report Issue
Not Cheapest?
Copy and Share the Below URL
This version of the popular Piper J-3 Cub is in a striking new Swiss color scheme which is a must for all scale pilots. This color scheme uses a lot less paint so there is a bit of a saving in weight which further reduces the already low wing loading. The attention to detail makes it an extremely realistic model, and it comes with a nice, generous size 1400mm wingspan. Like all Cub's with its large wingspan, and stable flying characteristics it is very easy to fly, perfect for low-hour pilots and experts alike. The Swiss Cub also has a new all-metal landing gear which is virtually indestructible, this will survive the hardest of landings. Further weight saving has been achieved by the removal of the metal tail bracing wires, these have been replaced with scale-looking, easy to fit, lightweight elasticated white shock chord.

The Piper J-3 Cub is an American light aircraft that was built from 1938 onwards by the Piper Aircraft Company. It was designed to be lightweight and simple to build, would have good low-speed handling qualities, and have great short-field performance. Primarily the Cub was a trainer and gained great popularity in this role, but later on, it became well suited for a variety of military uses such as reconnaissance, liaison, and ground control roles.

Putting the H-King Cub together is very simple with every component attached by screws, no glue is required except for some recommended reinforcement purposes. The 9g servos come pre-installed as well as the 45A ESC and powerful 3648-700KV brushless motor. The scale detail is exceptional with plastic injection molded parts used extensively throughout including the dummy engine, wing struts, molded glazing, and large "Cub" wheels. Practical features include the linked steerable tailwheel, large magnetic battery hatch, and the construction is from tough, lightweight, and easy to repair EPO foam.

The H-King Swiss J-3 Cub is a genuine scale model of a full-size J-3 Cub and is easy to fly by pilots of all abilities including beginners. It is a fantastic-looking model and its unique color scheme makes it look impressive in both the air and on the ground. The Swiss Cub is fitted with a very versatile power train, you can fly it on a 2700mAh 3S which will give you long, lazy scale flights, install a 2450mAh 3S LiHv for sport flying (this is our favorite set-up), or step up to a 2200mAh 4S for a Cub that comes alive with plenty of power for some crazy, stunt flying. All this is achieved using the same motor, ESC, and prop, nothing requires changing. When it comes to performance the choice is yours, but be rest assured, whatever power you choose you will be really pleased with the performance of the H-King Swiss J-3 Cub.

Included in the box are an FPV camera mount and a JST ESC to FPV equipment lead. This mount etc coupled with the crystal clear molded windscreen gives you the opportunity to experience HD scale FPV flying from the cockpit for the ultimate FPV experience.

Features:
• Authentic scale Swiss color scheme
• Has realistic attention to detail
• Virtually indestructible metal landing gear
• Includes FPV mount and crystal clear windscreen for HD scale FPV flying
• Excellent flying qualities and low-speed handling
• Lightweight, tough EPO construction
• Plug N Fly with pre-installed servos, motor, and ESC

Specs:
Wingspan: 1400mm (55")
Length: 950mm
Flying weight: 1850g~1900g (depending on set-up)
Wing loading: 56g/dm²
Propeller: 12x6
ESC: 45A
Motor: 3648-700KV brushless outrunner
Servos: 4 x 9g

Included:
1 x H-King Swiss J-3 Piper Cub complete EPO airframe
1 x 3648-700KV brushless motor (pre-installed)
1 x 45A brushless ESC (pre-installed)
4 x 9g servos (pre-installed)
1 x Complete hardware pack inc wheel

Required:
4 Channel or greater transmitter and receiver
2200mAh~2700mAh 3s~4s LiPo Battery
Thread locker glue
Foam glue (optional)
Suitable LiPo charger

Please note: A copy of the building manual is available under the "Files" tab.
Motorsize(diam-or-cc)

36.00
BlameAndrè giving the H-King Swiss J-3 Cub it's first look

H-King Swiss J-3 Piper Cub Unboxing and Build by JohnVHRC

H-King Swiss J-3 Piper Cub Maiden Flight by JohnVHRC

JohnVHRC taking the H-King Swiss J-3 Cub for an early morning flight from a hard runway

H-King Swiss J-3 Piper Cub Unboxing, Build, and 3S Flight Test by Essential RC

H-King Swiss J-3 Piper Cub Maiden Flight on 3S by GBLynden's RC

Painless360 Unboxing, Build, and Flight Review of the H-King Swiss J-3 Piper Cub

Official HobbyKing Review of the H-King Swiss J-3 Piper Cub

H-King PNF Swiss J-3 Piper Cub EPO 1400mm - Unboxing & Assembly
Samaira | Verified Buyer
Lovely looking one
Sep 17, 2022
Larryjm | Verified Buyer
Good Value Flys Well But Needs Some Improvements
Jul 13, 2022
Bellairvideo | Verified Buyer
A nice easy-to-fly aircraft
Jun 10, 2022
Gorspig007 | Verified Buyer
Great flyer well made recommended
May 20, 2022
strutter | Verified Buyer
good quality
May 06, 2022
Friedel Weber | Verified Buyer
a very nice aircraft with one mistake
Feb 10, 2022
Uli | Verified Buyer
Wonderful airplne
Feb 07, 2022
J3 Piper Cub | Verified Buyer
J3 Piper Cub
Feb 02, 2022
oldpoppy | Verified Buyer
Upload your file
Only registered users can upload files.
Please log in or register to start helping your fellow hobbyists today!